TELL A FRIEND ABOUT THIS PRODUCT
Testimonials:
Good sturdy kit - paid for on Sunday delivered Tuesday - spot on
Ralph (Thornley, Durham, UK) - Oct 2012
We are a trusted supplier to thousands of UK clients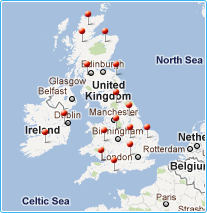 Folding Solar Panels
100W 12V/24V folding solar panel (without a solar charge controller) for camper, caravan, boat or any other 12V/24V system - German solar cells
Phone order?
Call our FREE phone
0800 755 5050
and quote the product code below
(have your card and delivery details ready)
Working hours Mon-Fri 9am-6pm
This high quality waterproof 100W folding solar panel is designed to provide free power for charging 12V/24V batteries, for example in vehicles and boats (motorhome, caravan, camper, narrow boat, yacht etc) or any other system with a 12V/24V battery or battery bank. This is the ideal solution for anyone wanting all the benefits of solar without the permanency of a mounted solar panel, as this panel can be folded and stored away when not in use.
This High efficiency 100W (50W+50W) 12V/24V folding monocrystalline solar panel comes with:
Adjustable aluminium stand, handle and latches
5m solar cable
Storage / protective case
The folding solar panel has several important features which make it a truly unique premium quality product:
The solar panel is completely waterproof, so the unit can be used in all weather conditions
The high efficiency (50W+50W) monocrystalline solar panels are made of high quality German solar cells

The storage bag is not just a dust cover – it includes a layer of foam for added protection
This folding solar panel is supplied without a solar charge controller, to give you the flexibilty of choosing a controller that best suits your application. You can use your existing solar charge controller with this panel or it can be paired with any of our solar charge controllers, giving you more control over your system, allowing access to different controller features such as an LCD display, MPPT, Dual Battery, Buck-Boost, mobile app connectivity and more. The folding solar panel would also allow you to mount a solar charge controller in a convenient place for easy monitoring and quick access. This folding panel can be easily connected to one or more similar folding panels if necessary, all then connected through a larger solar charge controller to increase your energy yield.
The folding solar panel comes with 5m (bare ended) solar cable to connect from the panel to your choice of solar charge controller. Its design incorporates an easy to set up and fix stand; the handle and latches ensure ease of storage and portability. The storage case included with the panel is made with a layer of foam, providing protection for the glass and the frame, preventing any accidental damages. In addition to this, the solar panels' corners are protected by plastic shields, reducing the risk of damage as well as giving the kit a beautiful finish.
At Photonic Universe we always make sure that the quality of our products is high. That's why we selected a German supplier of solar cells for this folding solar panel. German solar cells have excellent performance characteristics even in low light conditions (good output even without direct sunlight!) and higher efficiency and reliability compared to many other solar cells.
Click on the Details and Specifications tab for more information about this product.
Solar panel specifications:
Peak power: 100W
Maximum power voltage: 17.5V
Maximum power current: 5.70A (2x2.85A)
Open circuit voltage: 21.6V
Short circuit current: 6.2A (2x3.1A)
Power allowance: +/- 3%
Cable: 5m 4.0mm2 single core solar cable
Dimensions: 51x69x6cm (folded)
Weight: 12kg
The product is covered by 1 year workmanship warranty. For more information please refer to our Terms and Conditions.
In addition, solar cells are guaranteed to produce at least 90% of nominal power in 10 years after purchase and at least 80% of nominal power in 25 years after purchase. This warranty is provided by the manufacturer of solar cells.
This solar panel does not include a user manual. A detailed user manual will come with your chosen solar charge controller.
If you need help with installation or have any technical questions we can provide FREE support - please contact us by email or phone (see Contact Us page for more information).