TELL A FRIEND ABOUT THIS PRODUCT
Testimonials:
Fantastic communication, 2nd to none customer service! Will use again!!! A****
Richard (Gloucester, Gloucestershire, UK) - Jan 2015
We are a trusted supplier to thousands of UK clients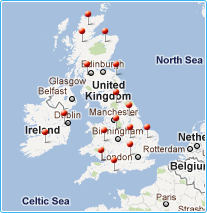 Single Batteries
100Ah 12V OPzV tubular gel deep cycle battery for motorhomes, caravans, boats and off-grid power systems
Phone order?
Call our FREE phone
0203 150 1111
and quote the product code below
(have your card and delivery details ready)
Working hours Mon-Fri 9am-6pm
What is an OPzV tubular gel deep-cycle battery?
OPzV batteries are a type of Valve Regulated Lead Acid (VRLA) battery filled with special gel-type electrolyte, which also feature tubular plates.
OPzV is a German abbreviation, which stands for: Ortsfest (Stationary) Pz: Panzerplatte (Tubular plate) Verschlossen (Valve regulated).
This is also a deep cycle battery, which means that it is specially designed for applications which involve regular deep discharge. Such applications include using it as a leisure battery in caravans, motorhomes, campervans and boats, or for energy storage in lighting systems, telecommunications, networking equipment and various types of off-grid power systems. This battery is also great for emergency power storage and UPS systems.
Main benefits of Gel OPzV batteries include:
Thanks to their special tubular gel design, OPzV batteries can also withstand many more charge-discharge cycles compared to standard Gel and AGM batteries and typically last several years longer than standard Gel or AGM batteries.
These batteries are non-spillable, completely sealed and maintenance free - one of the safest batteries you can find.
They can withstand a wider temperature range than other batteries and are ideal for outdoor applications as low as minus 20˚C.
Gel OPzV batteries also hold their charge very well and have a low self-discharge rate.
They have a higher resistance to shock and vibration and do not need to be upright - they can be used on any of their sides.
Due to their unique features, OPzV tubular gel batteries are the best and longest-lasting choice for standby and low current applications, such as for lighting, security alarms, instrumentation, CCTV etc. They can also be used in high current applications (such as with powerful inverters) when the battery bank is sized appropriately and consists of several batteries.
This battery is also the perfect choice for our solar charging kits due to its excellent solar charge acceptance. It is also an ideal option for wind power systems or for combined solar and wind energy storage (the maximum charging current of 20A per battery must be observed).
The service life of this battery depends on the depth of discharge in each charge-discharge cycle (the deeper the battery is discharged, the shorter the service life). In standby applications the service life of the battery is at least 10 years, but if treated well the battery can last up to 15 years.
The battery comes packaged in a carton box with user manual and bolts/washers for terminals.
Click on the Details and Specifications tab for more information.
Battery specifications:
Nominal voltage: 12V
Nominal capacity: 100Ah (10h rate) / 110Ah (20h rate)
Maximum charging current: 20A
Self-discharging rate: <1% per month
Cycle lifetime at:


25% D.O.D.: 3800
30% D.O.D.: 3200
50% D.O.D.: 1500
70% D.O.D.: 800
90% D.O.D.: 500


Pressure control: safety valve installed
Terminal type: M8 bolts (included)
Operating temperature: from -20C to +60C
Size: 406 x 173 x 237 mm (not including handles)
Weight: 34 kg
The product is covered by a 1 year warranty. For more information please refer to our Terms and Conditions.