TELL A FRIEND ABOUT THIS PRODUCT
Testimonials:
Next day delivery and an excellent inverter, very pleased. Thank you .
E Sutton (Lincolnshire, UK) - Oct 2017
We are a trusted supplier to thousands of UK clients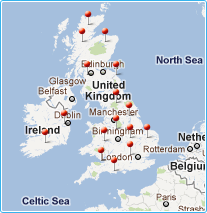 Extra large charging kits > 180W
310W 12V/24V Complete solar charging kit with 20A MPPT controller (German solar panel)
Phone order?
Call our number
0203 150 1111
and quote the product code below
(have your card and delivery details ready)
Working hours Mon-Fri 9am-6pm
This high efficiency 310W monocrystalline solar kit is perfect for all off-grid installations on caravans, campervans, motorhomes and boats for charging leisure battery banks or for standalone off-grid household solar systems with batteries. It can also be used for off-grid lighting applications and for back up power systems with batteries and inverters.
This is one of the most powerful solar charging kits for vehicles, boats or off-grid power systems. It can generate up to 20A charging current when charging 12V battery, which means that a typical 100Ah battery will be charged from 0% to 100% in only 5 hours of bright sunlight.
This 310W 12V/24V solar charging kit includes:
High quality 310W monocrystalline solar panel, manufactured in Germany to the highest European quality and performance standards, with 2 x 1m of solar cable with MC4 connectors
20A 12V/24V high efficiency MPPT solar charge controller
Remote LCD display with 5m cable (shows battery status and solar system performance)
Set of 4 plastic corner mounting brackets for bonding to the roof
Set of 4 plastic side mounting brackets for bonding to the roof
Waterproof double entry cable gland
2 x 5m of single core 4.0mm solar extension cable for the solar panel
5m of 6.0mm twin core battery cable fitted with a 20A fuse, fuse holder and 8mm ring terminals
310W Monocrystalline solar panel:
This solar panel features thick 4.0mm tempered solar glass, which makes it a lot stronger and more durable than other standard solar panels with 3.2mm glass. The robust waterproof design and strong aluminium frame of the solar panel are suitable for all weather conditions, including inland, marine applications and countries with hot or cold climates.
The panel is fitted with 2 x 1m of cable specially designed for solar panels to carry high currents with negligible power loss (4mm cross section). The cable comes with waterproof MC4 connectors which can be used for easy connectivity to the 5m of 4mm solar extension cable supplied with this kit.
20A MPPT solar charge controller:
The high efficiency solar charge controller included in this kit uses the most advanced Maximum Power Point Tracking (MPPT) technology to track the maximum power voltage point of solar panels as it varies depending on sunlight exposure and temperature. This technology ensures the maximum efficiency of your solar system and significantly outperforms standard PWM solar controllers.
The controller features a comprehensive set of electronic protection functions such as stopping reverse current at night (from the battery back to the solar panel), automatic cut off to prevent over-charging and deep discharge, over voltage, over load, short circuit and reverse polarity protection.
This controller also offers numerous possibilities for system personalisation. For instance, you can specify the duration and voltage of each charging stage, create a user-defined battery type with charging parameters specific to your battery, or personalise the load settings - e.g. set timers for lighting, fans, pumps. Other features include LED indicators and an audible fault alarm.
The kit / controller comes with a remote LCD meter with 5m cable. This meter can display the state of charge of the battery and various charging parameters such as voltage and current. It can also record accumulated battery capacity and min / max values reached over time.
Additional items:
This kit also includes 5m positive and negative extension leads for connecting the solar panel to the solar charge controller, a 5m 6.0mm dual core battery cable with a 20A fuse, fuse holder and 8mm eyelets for use between the solar charge controller and your battery, a set of 4 corner and 4 side mounting brackets for fixing the solar panel to the roof using an appropriate sealant (not included) and a waterproof double cable entry gland for keeping the cable connection fully waterproof when mounting the panel outside and feeding the solar cables inside the vehicle / building / below deck.
Click on the Details and Specifications tab for more information about this product.
Solar panel specifications:
Peak power: 310W
Maximum power voltage: 33.33V
Maximum power current: 9.30A
Open circuit voltage: 41.0V
Short circuit current: 9.94A
Dimensions: 165.5 x 99.5 x 4 cm
Weight: 18 kg
Operating temperature range: -40C to +85C
Mounting holes for installation
2 x 1.0m of high quality single core solar cable 4.0mm cross section
Male and female MC4 connectors
Special tempered solar glass 4.0mm thick
Charge controller specifications:
The most advanced MPPT technology to ensure high efficiency of your solar system
Fully automated operation and auto 12/24V selection
3 pairs of terminals (solar panel, battery, load) for wires up to 10mm
Maximum solar panel voltage 150V
Temperature sensor for automatic compensation (-3mV/C/2V)
Comprehensive electronic protection features
Communication port: RS485/RJ45 interface
Grounding: negative common ground
Current limiting function (20A)
Self-consumption: <60mA (12V), <30mA (24V)
Working temperature: -35C to +55C
Enclosure: IP30
Size: 21.7 x 14.3 x 5.6 cm
Weight: 1500 g
Remote meter size (without frame): 10 x 10 x 3 cm
Remote meter size (with frame): 12 x 12 x 5 cm
Remote meter weight: 230 g
Multiple mounting holes for ease of installation
Mounting accessory specifications:
Material: plastic
Colour: white
Cable diameter for the cable gland: 3-7mm
Size: each corner bracket 15 x 15 x 6.5 cm, each side bracket 18 x 9 x 6.5 cm, cable gland 11 x 9 x 4 cm
Combined weight: 2.7kg
Please note: due to our warehouse arrangements, the solar charge controller and accessories may be shipped from a different warehouse to the solar panel and therefore delivered in a separate package.
The solar panel is covered by a 5 years workmanship warranty. The solar charge controller comes with a 2 year warranty.
In addition, solar cells are guaranteed to produce at least 90% of nominal power in 10 years after purchase and at least 80% of nominal power in 25 years after purchase. This warranty is provided by the manufacturer of solar cells.
For more information please refer to our Terms and Conditions.
It's very easy to wire this kit up: simply connect a working 12V or 24V battery to the solar charge controller (it will switch on the battery light showing that it has detected the battery and its voltage), battery "+" to "+" battery terminal of the solar controller, battery "-" to "-" battery terminal of the solar controller. Then connect the solar panel "+" to "+" solar terminal of the controller, and solar panel "-" to "-" battery terminal (ideally some cover should be placed on the solar panel during the connection).
Connection diagram for this solar kit is provided below: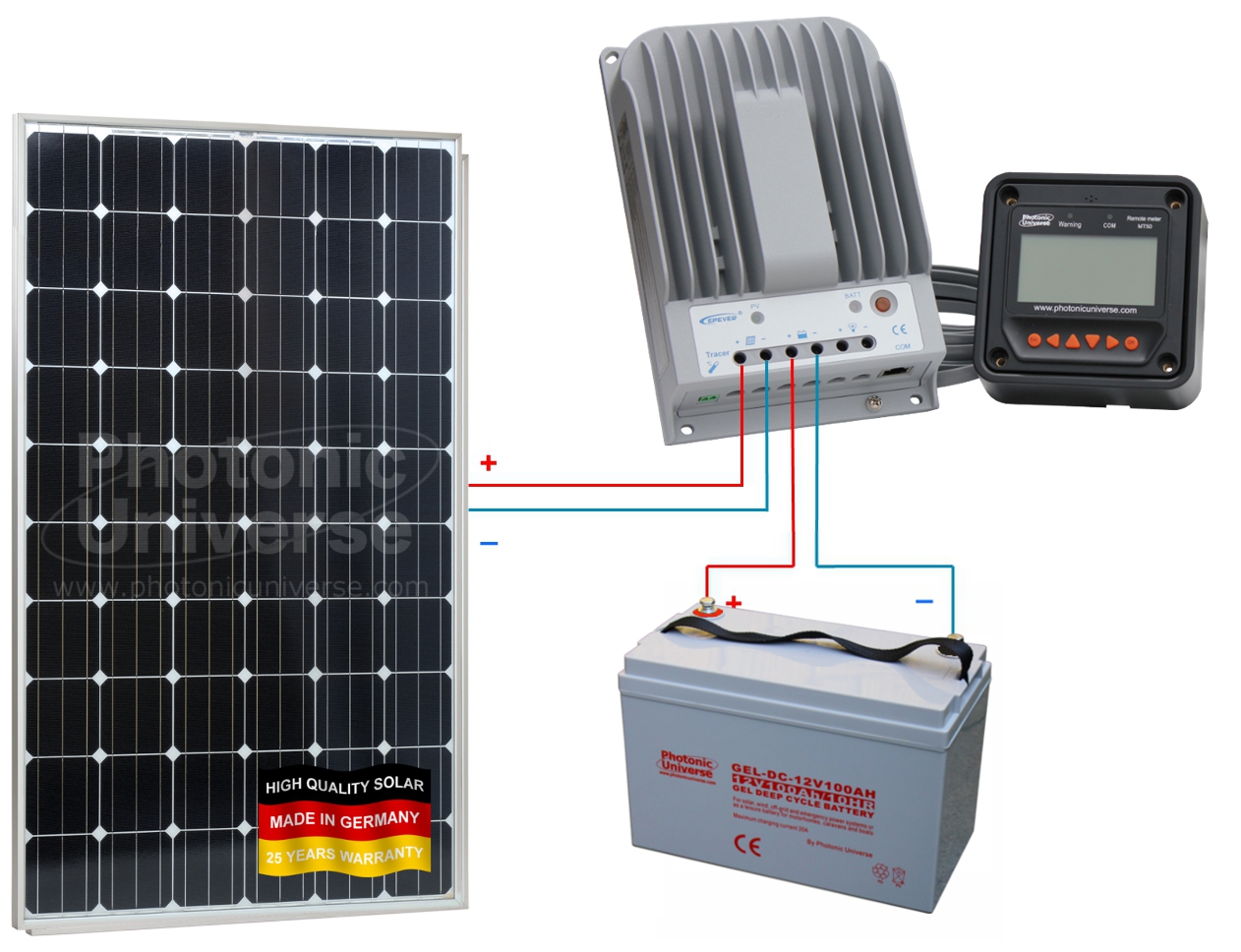 If you need help with installation or have any technical questions we can provide FREE support - please contact us by email or phone (see Contact Us page for more information).