TELL A FRIEND ABOUT THIS PRODUCT
Testimonials:
Awesome 250W solar kit. Easy to fit, excellent instructions & advice via phone .
Lez (Dunstable, Bedfordshire, UK) - Feb 2016
We are a trusted supplier to thousands of UK clients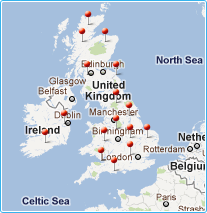 Complete Off-Grid Systems
Large Off-Grid Household Solar Power System
Phone order?
Call our number
0203 150 1111
and quote the product code below
(have your card and delivery details ready)
Working hours Mon-Fri 9am-6pm
Photonic Universe MEGA Kit - This large off-grid household solar power system combines everything you need to keep your large electrical appliances running. This large kit is perfect for live-aboard boats, office conversions, beach huts, or any other buildings and remote locations where 230V off-grid power supply is required, e.g. houses with no access to mains electricity.
This system uses over 2kW of solar power and a high-efficiency MPPT solar charge controller to charge a large-sized 24kWh 48V battery bank, and supply 230V AC power via a normal mains power socket (during the day and at night time). This can provide power all year round for all small household items such as desktop computers, printers, lighting, TV, fridge, and a kettle. It is also capable of running large appliances such as washing machines, dishwashers and cookers.
MEGA kit includes:
8 x 260W polycrystalline solar panels with 0.9m 4.0mm solar cable and waterproof MC4 connectors
60A 48V premium high efficiency MPPT solar charge controller
20 x 100Ah AGM deep cycle Photonic Universe leisure batteries
3000W 48V low frequency pure sine wave inverter
A pair of 5m 6mm solar extension cables with MC4 connectors
A pair of 3m 16mm red and black battery cables
A pair of 1m 35mm red and black inverter cables
Battery linking cables
A pair of T-branch MC4 connectors
2 x 48V circuit breakers
A DC solar isolator switch
Loose ring terminals
8 x 260W Polycrystalline solar panels:
These powerful 260W panels have been manufactured to the highest standard and have positive tolerance, which means that the output of each solar panel is actually greater than 260W (power is typically in the range of 262W-265W). The panels are fitted with 2 x 0.9m of cable with MC4 connectors at the end. Connect the panels together in series (+ to -) and then simply plug the two spare cables from the panels into the 5m extension solar cable supplied with the kit, to join the solar panels and the charge controller.
60A 48V MPPT controller:
This solar charge controller uses the most advanced Maximum Power Point Tracking (MPPT) technology to track the maximum power voltage point of solar panels as it varies depending on sunlight exposure and temperature. This technology ensures the maximum efficiency of your solar system and it can also boost charging current, so this controller will significantly outperform any similar standard PWM solar controllers.
This controller also features a wide range of manual control settings, such as charging voltage, duration of charging stages, temperature compensation and many other specific charging parameters for your battery.The unit also features a comprehensive set of electronic protection functions such as over charging, over heating, PV over current, PV short circuit and reverse polarity.
Other features include LED indicators and an LCD display, USB connectivity for data analysis, settings and software update (cable and software included), automatic storage of 450 days of data and a remote temperature sensor with 5m cable (included)
20 x AGM Batteries:
Our AGM deep-cycle batteries are non-spillable, completely sealed and maintenance free - they are one of the safest batteries you can find. They have much longer service life compared to standard wet-cell batteries due to lower degradation and corrosion inside the battery. AGM batteries hold charge very well and have low self-discharge rate.
3000W 48V Inverter:
This 3000W 48V low frequency pure sine wave power inverter comes with the following important features: A fast built-in 35A/70A mains battery charger, advanced power saving mode, uninterrupted power supply mode, ability to accept input AC power from a generator, and a detailed LCD display which shows voltages, battery status, current operating mode and other information
Additional items:
The kit also includes a pair of T-MC4 connectors for easy connection of the string of solar panels, a DC isolator switch for the solar array, 5m positive and negative solar extension leads to connect the solar panels to the solar charge controller, 3m red and black battery cables to connect the solar charge controller to the battery bank, red and black battery links to connect the batteries in a single 48V bank, 1m red and black inverter cables to connect the inverter to the battery bank, 2 x 48V circuit breakers for the controller and inverter, and the necessary ring terminals for the cables (supplied loose, crimping required).
Click on the Details and Specifications tab for more information about this kit.
Solar panel specifications:
Peak power: 260W
Maximum power voltage: 29.6V
Maximum power current: 8.78A
Open circuit voltage: 35.5V
Short circuit current: 9.31A
Power tolerance: 0/+3%
Dimensions: 164 x 99 x 3.5 cm
Weight: 17 kg
Mounting holes for installation
2 x 0.9m of high quality single core solar cable (4.0mm cross section)
Male and female MC4 connectors
Charge controller specifications:
Advanced MPPT tracking technology to ensure high efficiency of your solar system
Fully automated operation and auto 12V/24V/36V/48V selection
Terminals for wires up to 35mm2
Maximum solar panel voltage 150V
Maximum solar panel power 800W (12V) / 1600W (24V) / 2400W (36V) / 3200W (48V)
Remote temperature sensor for automatic compensation
Comprehensive electronic protection features
Self-consumption: 1.4 - 2.2W
Working temperature: -25C to +55C
Size: 45 x 21 x 11 cm
Weight: 5.5 kg
Multiple mounting holes for ease of installation
Installation CD and USB connection cable for monitoring performance software on a PC
Battery specifications:
Nominal voltage: 12V
Nominal capacity: 100Ah (10h rate) / 105Ah (20h rate)
Maximum charging current: 25A
Self-discharging rate: <3% per month
Cycle lifetime at 30% D.O.D.: 1000-1100
Pressure control: safety valve installed
Terminal type: F13 (bolts and washers included)
Operating temperature: from +10C to +40C
Size: 331 x 173 x 217 mm
Weight: 30.0 kg
Inverter specifications:
Input: 48V DC
Output: 220-240V (selectable) AC 50Hz
Output wave: pure sine wave
Power rating: 3000W nominal, 9000W peak
Nominal inverter efficiency: 88%
Power saving mode
UPS and bypass mode
Minimum battery voltage: 40V
Low battery alert: 42V
Max battery charging current: 35A/70A
Protection against: overload, overheat, low battery, overcharge
Overcharge protection voltage: 62.8V
Power Factor: 0.9-1.0
Operating temperature range: 0 - 40C
Weight: 26 kg
Size: 44.2 x 21.8 x 17.9 cm
Please note: due to our warehouse arrangements, the solar charge controller and accessories may be shipped from a different warehouse to the solar panels, inverter and batteries, and therefore delivered in a separate package.
The panels and batteries are covered by a 1 year repair or replacement warranty provided by Photonic Universe. In the unlikely event that a defect is found and confirmed during this period, we guarantee that we will repair or replace defective items (at our discretion). The solar controller is covered by a 2 year manufacturer warranty and the inverter is covered by a 1 year manufacturer warranty. For more information please refer to our Terms and Conditions.
In addition, solar cells are guaranteed to produce at least 90% of nominal power in 10 years after purchase and at least 80% of nominal power in 25 years after purchase. This warranty is provided by the manufacturer of solar cells.
For installation advice, please click on the Installation tab.
This large household solar system will require an electrician or trained professional solar installer to conduct the installation. Kit accessories such as metal busbars and fuses are not supplied. Solar panel brackets can be purchased separately from the Mounting Accessories category of our online shop.
After purchase, our technical team can supply a wiring diagram. If you are unsure as to whether 3000W output power is sufficient for your appliances, please refer to our table of typical power consumption of domestic appliances.
If you need help with installation or have any technical questions we can provide FREE support - please contact us by email or phone (see Contact Us page for more information).