TELL A FRIEND ABOUT THIS PRODUCT
Testimonials:
Est. delivery: 29 Dec. Delivered 24 Dec - unbelievable! Impressed with seller!
Anthony (Liverpool, Merseyside, UK) - Dec 2014
We are a trusted supplier to thousands of UK clients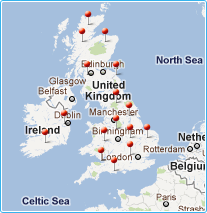 Phone/Laptop Solar Chargers
40W portable laptop and phone solar charger with 2A USB output and 12V/19V output
Phone order?
Call our number
0203 150 1111
and quote the product code below
(have your card and delivery details ready)
Working hours Mon-Fri 9am-6pm
This solar panel charger represents the future of portable on-demand electronic device charging. Both lightweight and stylish, this is a perfect travel companion for festivals, camping, fishing or any other outdoor activities. This powerful charger can charge not only mobile phones, tablets, and digital cameras, but also laptops with 18V-19V DC power ratings - providing the freedom to work outdoors whilst charging devices from the power of the Sun. There is one standard 2A USB output (USB cable is not included), one 12V output, and one 19V output for charging larger devices.
The charger is incredibly simple to use: place in direct sunlight, plug in and your unit will begin to charge. The high-efficiency, back-contact solar cells supplied with the system can fully charge a smartphone in 1-2 hours, if the charger is placed in bright, direct sunshine (longer in cloudy weather).
Included in the kit are 12 different laptop adaptors for the most common laptops such as HP, Dell, Lenovo, Asus, Acer and others.
The intelligent design of this charger ensures high stability and protection for your devices when connected. It can also electronically recognise your device when it is plugged in, and has an automatic restart function.
Please note that this charger is not fully waterproof and can only tolerate light moisture and spills. Fold and store away when the item is not in use.
Click on the Details and Specifications tab for more information
Charger specifications:
Nominal power: 40W
Panel quantity: 4 x 10W
Solar cells: High-efficiency, back-contact
Output 1 rating: 5V 2A
Output 2 rating: 12.6V DC
Output 3 rating: 19V DC
12 x laptop adaptors for DC charging
Folded (closed) size: 350 x 260 x 45 mm
Unfolded (open) size: 1030 x 350 x 30 mm
Weight: 2 kg
This product comes with a user manual and is covered by a 1 year manufacturer warranty. For more information please refer to our Terms and Conditions.
Installation is very easy: position the solar panel outdoors, ideally facing bright, direct sunlight. Choose the 5V 2A USB output depending on the requirements of your device, and plug the USB side of your device's cable into the USB slot of the solar panel charger. Then connect the other side to your device. A light will illuminate on the solar panel charger to indicate correct connection and charging.
For laptop charging, choose the correct laptop adaptor and fit this to the cable from the 19V plug. Then plug this adaptor into your device charging port. A light will illuminate on the solar panel charger to indicate correct connection and charging. Please ensure that you check the specifications of your laptop for exact charging voltages and requirements before using this solar charger.
If you need help with installation or have any technical questions we can provide FREE support - please contact us by email or phone (see Contact Us page for more information).