TELL A FRIEND ABOUT THIS PRODUCT
Testimonials:
fantastic service, highly recommended.
Gareth S - Jan 2021
We are a trusted supplier to thousands of UK clients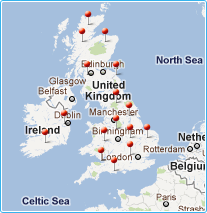 Dual battery controllers
530W 12V dual battery solar charge controller / regulator for up to 33A solar input
Phone order?
Call our number
0203 150 1111
and quote the product code below
(have your card and delivery details ready)
Working hours Mon-Fri 9am-6pm
We are proud to offer this 530W 12V solar charge controller which combines PWM technology with Dual Battery capability. This solar charge controller is suitable for high power solar systems of up to 530W and 33A with two 12V batteries, thereby offering extensive upgrade possibilities for future expansion.
This solar charge regulator is well-recognised as the most powerful dual battery controller on the market. German design, engineering and manufacturing also ensure unrivalled quality and reliability.
Dual Battery Capability:
This high quality 530W 12V dual battery solar charge controller is designed to charge and protect 2 batteries simultaneously, with automatic cut off to prevent over-charging. This makes it a perfect solar controller for a caravan, motorhome, boat or any other system with 2 batteries (e.g. engine and leisure battery). The main battery will be charged with full available power, whilst the second battery will be trickle charged (max 1.5 Amps). Please note: this controller also functions with only one battery connected. In this case, 100% of the charging current will be passed to the single battery. A second battery may be added at any time.
Full Range of Protection Functions:
This charge controller features a comprehensive set of electronic protection functions to prevent reverse current at night (from the battery back to the solar panel), over-charging, short circuit and battery reverse polarity protection.
Advanced Battery Compatibility:
Unlike many other less advanced solar charge controllers, this model is 100% compatible with a broad range of battery types, such as Gel, AGM, Lead-Acid Flooded and Lithium batteries; with several different charging options available for each type.
Additional Special Features:
This 530W 12V solar charge controller also has connection sockets for a remote meter (can be purchased here) and AES-enabled fridges (Automatic Energy Selector e.g. in some Dometic/Electrolux fridges). When the battery is full, this controller will automatically divert any excess solar energy to the AES fridge; thereby switching the fridge from gas/mains to 12V operation.
The built-in fan for cooling makes its design compact and lightweight. Whilst other controllers require heavy passive metal cooling systems, this model is protected from overheating, whilst remaining aesthetically and ergonomically pleasing.
Click on the 'Details and Specifications' tab for more information about this product.
Controller specifications:
Maximum solar panel power 530W and current 33A
Maximum solar panel voltage 28V (nominal 18V solar panels are recommended)
Fully automated operation and battery recognition
LEDs to indicate state of charge
Connection point for a

remote meter

(not included) and AES enabled fridges
Various protection features (over charge, short circuit, battery reverse polarity etc)
Easy to connect screw terminals for solar panel, batteries and control wires
In-built fan to prevent overheating
External fuse for easy replacement
Self-consumption: 4mA
Working temperature: -20 to +45°C
Size: 13 x 8 x 4 cm
Weight: 170g
Multiple mounting flanges for ease of installation
This product is covered by a 2 year manufacturer warranty. For more information please refer to our Terms and Conditions.
This unit comes with a detailed user manual which explains wiring and operations.
If you need help with installation or have any technical questions we can provide FREE support - please contact us by email or phone (see Contact Us page for more information).