TELL A FRIEND ABOUT THIS PRODUCT
Testimonials:
3rd purchase from you, the best solar products and customer service by far.
Trevor (Leighton Buzzard, Bedfordshire, UK) - April 2017
We are a trusted supplier to thousands of UK clients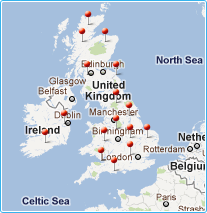 Steca controllers
Steca Solarix 20A dual battery solar charge controller for any combination of two 12V / 24V batteries for up to 320W (12V) / 640W (24V) solar input
Phone order?
Call our number
0203 150 1111
and quote the product code below
(have your card and delivery details ready)
Working hours Mon-Fri 9am-6pm
This dual battery solar charge controller is the perfect choice for charging two 12V / 24V batteries or battery banks with solar panels up to 320W (12V) or 640W (24V). Unlike most other dual battery controllers which only permit 12V + 12V or 24V + 24V battery combinations, this particular unit also permits the user to simultaneously charge one 12V battery/ battery bank and one 24V battery/ battery bank. This innovative model also uniquely features terminals for direct load output. German design, engineering and manufacturing ensure unrivalled standards of quality and efficiency.
PWM technology: this controller uses PWM (Pulse Width Modulation) technology which increases charge acceptance and prolongs the life of your batteries. PWM technology can also recover some lost battery capacity. The technology allows the controller to work not only with standard off-grid solar panels, but also with on-grid panels or solar panel arrays up to 60V (though it works at maximum efficiency with solar panels with an operating voltage of 17V-20V for 12V batteries, or 34V-40V for 24V batteries). The maximum allowed solar power input for this controller is 320W for a 12V system and 640W for a 24V system.
Dual battery capability: this is a perfect solar controller for a caravan, motorhome, boat or another system with 2 batteries (e.g. engine and leisure battery). The controller will charge the primary battery with 90% of available solar power, whilst the auxiliary battery will be charged with 10% of available power. When one of the batteries is fully charged, the controller will automatically divert all power to the other battery. The exact charging ratio can be adjusted with the use of a remote meter (can be purchased here). Please note: This solar charge controller is also suitable for charging only one battery. The controller will automatically recognise this, and directly pass on 100% of the charging current to the single battery. A second battery may be added at any time.
Full system protection: this controller features one of the most extensive ranges of electronic protection functions currently available. These prevent reverse current at night (from the battery back to the solar panel), over charge, deep discharge, short circuit, and battery reverse polarity. Additional protection functions include open circuit protection, an automatic electronic fuse and self-diagnostic capability to highlight and resolve any system faults.
Additional features:
Option to directly connect a load output (up to 20A) with full over discharge protection for the batteries.
USB output (5V 1.5A) allows the possibility to charge any USB-compatible device (e.g. a mobile phone / tablet).
Multi-coloured LED indicators to facilitate clear monitoring of battery condition, charging status, load status and fault detection.
RJ-45 socket for a remote LCD meter to personalise default charging parameters.
Built-in temperature sensor allows charging adjustment depending on the ambient temperature.
Click on the details and specifications tab for more information about this product.
Controller specifications:
Fully automated operation and auto 12/24V selection
4 pairs of terminals (input, battery 1, battery 2, load) for wires up to 10mm2
Maximum solar input power: 320W (12V) / 640W (24V) up to 60V
Separate load circuit for external appliances of up to 240W (12V) / 480W (24V) and 20A
Various protection features (over charge, short circuit, deep discharge, reverse polarity etc.)
LEDs to indicate battery charge/ load status and system faults
Temperature sensor for temperature compensation of charging (-4mV/K/Cell)
RJ-45 socket for a

remote LCD meter

(not included)
USB socket (5V 1.5A)
Self-consumption: 22mA
Working temperature: -20C to +50C
Size: 19 x 12 x 5.8 cm
Weight: 500 g
Multiple mounting holes for ease of installation
The product is covered by a 5 year warranty. For more information, please refer to our Terms and Conditions.
The product comes with a detailed instruction manual which explains connections and operations.
If you need help with installation or have any technical questions we can provide FREE support - please contact us by email or phone (see Contact Us page for more information).