TELL A FRIEND ABOUT THIS PRODUCT
Testimonials:
Next day delivery and an excellent inverter, very pleased. Thank you .
E Sutton (Lincolnshire, UK) - Oct 2017
We are a trusted supplier to thousands of UK clients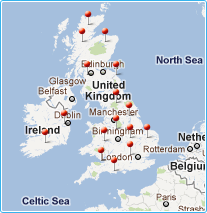 Solar Lighting Systems
8W Off-Grid Solar Lighting System with 2 LED Lights, Solar Panel and Battery
Phone order?
Call our FREE phone
0203 150 1111
and quote the product code below
(have your card and delivery details ready)
Working hours Mon-Fri 9am-6pm
This solar lighting system is ideal for places with no mains electricity such as outhouses, sheds, garages, farms, stables, as well as for camping, travel and any outdoor activities (e.g. a for a yurt). The system is fully independent from the grid / AC power source and works purely based on sunlight energy.
During the daytime, the 8W solar panel charges a 12V battery located inside the control unit, which then provides power to 2 x 3W 12V LED lights connected via front sockets on the control unit. In addition, there is a standard 5V USB socket for charging mobile phones and USB compatible devices (adaptors for USB-compatible mobile phones are included).
The control unit has a built-in 12V 4.5Ah battery with an automatic solar charge controller to manage the charging process and prevent overcharging. The 8W solar panel supplied with the system can fully charge this battery within about 8-10 hours of bright sunshine (longer in cloudy weather), and the battery can provide enough energy to power 2 LED lights continuously for 6-8 hours, or twice as long if only one LED bulb is connected.
The system is very convenient to use and install: the solar panel comes with 10m cable (would suit most objects, as longer distance is rarely required), and each LED bulb is connected to a 5m cable with an On/Off switch to save energy. All cables come with connectors for a quick "plug and play" installation.
Click on the Details and Specifications tab for more information.
System specifications:
System voltage: 12V
Battery capacity: 4.5Ah
LED lights power: 3W
Length of solar panel cable: 10m
Length of LED lights cables: 5m
USB output current: 0.6-0.8A
Max DC output current: 3A
Control unit case size: 172 x 168 x 110 mm
Solar panel size: 292 x 265 x 17mm
Control unit case weight: 2.6 kg
Solar panel weight: 1 kg
This product is covered by a 1 year manufacturer warranty. For more information please refer to our Terms and Conditions.
Installation is very easy: the solar panel cable should be connected to the charging socket at the front side of the control box, and the 2 x LED light cables should be connected to the front 12V sockets. Then turn the control unit switch to ON and the solar panel will start charging the battery. Each LED light comes with a separate On/Off switch for your convenience.
If you need help with installation or have any technical questions we can provide FREE support - please contact us by email or phone (see Contact Us page for more information).