TELL A FRIEND ABOUT THIS PRODUCT
Testimonials:
Second solar panel from Photonic. Always a good quality product. AA+++
Douglas (Cambridge, UK) - Oct 2017
We are a trusted supplier to thousands of UK clients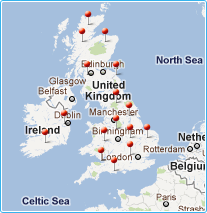 DC to DC Battery Chargers
2A 12V DC to DC battery to battery trickle charger
Phone order?
Call our number
0203 150 1111
and quote the product code below
(have your card and delivery details ready)
Working hours Mon-Fri 9am-6pm
We are proud to offer this 2A DC to DC battery charger, from the leading German solar electronics manufacturer, Votronic. German design, engineering and manufacturing ensure unrivalled quality and reliability.
Function: This intelligent battery trickle charger is designed to automatically divert charging current from a battery with a constant source of energy (e.g. being charged by solar / mains/ alternator) to a second target battery. The target battery will be trickle charged at a maximum of 2A.
Benefits: This battery to battery charger can be easily integrated or retrofitted into any 12V system, allowing the user to transform a single battery system into a dual battery charging system. For example, in a vehicle or boat this charger can take the energy from the engine starter battery (which is constantly topped up by the alternator) and charge a leisure or auxiliary battery.
In a solar charging system, the charger allows an easy conversion from a single battery solar charging kit to a dual battery charging kit, without the need to upgrade the single battery solar charge controller to a dual battery model. This is perfect for systems with a high solar input, where a capable dual battery solar charge controller is expensive or difficult to procure.
Unlike split chargers, there is no need to implement any overcharge protection into the system, as this trickle charger will top up the target battery at a slow and steady rate, ensuring optimum safety for your batteries.
Compatibility: This DC to DC battery charger is suitable for use with any 12V lead acid batteries, with a capacity of 50Ah or greater. It is not compatible with 24V batteries or a combination of 12V and 24V batteries.
Click on the 'Details and Specifications' tab for more information about this product.
Specifications:
Nominal operating voltage: 12V
Charging current: 0-2A
Battery types: suitable for any type of 12V lead acid battery (min. capacity 50Ah)
Temperature range (storage): -25 to +60 C
Temperature range (operation): -20 to +40 C
Ambient conditions, humidity: max. 95% RH, no condensation
Protection class: IP20
Dimensions: 90 x 60 x 38 mm
Weight: 52g
This product is covered by a 2 year manufacturer warranty. For more information please refer to our Terms and Conditions.
This DC to DC battery charger should be installed between the positive terminals of the source and target batteries. The two positive cables should be wired into the corresponding screw terminals located on the unit (source battery "+" connected to the 'BORD I' terminal, target battery "+" connected to the 'START II' terminal). The negative terminals of the source and target batteries should either be directly linked, or connected through the negative common ground if it is already used in the system (such as a boat hull or vehicle chassis).
Full details explaining wiring and operations can be found in the user manual supplied with this product.
If you need help with installation or have any technical questions we can provide FREE support - please contact us by email or phone (see Contact Us page for more information).