TELL A FRIEND ABOUT THIS PRODUCT
Testimonials:
just hooked up final setup tonite...will send pics when can.....love the setup...nice equipment!....
Daniel (Okinawa, Japan) - March 2015
We are a trusted supplier to thousands of UK clients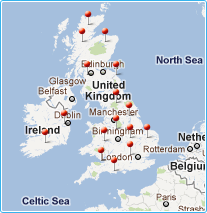 Mains Battery Chargers
Votronic 20A 12V automatic multi-stage mains battery charger
Phone order?
Call our number
0203 150 1111
and quote the product code below
(have your card and delivery details ready)
Working hours Mon-Fri 9am-6pm
This 20A 12V automatic mains battery charger is designed to enable safe and efficient unattended charging of 12V batteries from a mains power source (220-240V AC). This product comes from Votronic, the leading German manufacturer of solar and vehicle electronics. German design, engineering and manufacturing ensure unrivalled quality and reliability.
Charging options:
This unit is able to charge either a single 12V battery, or several 12V batteries connected in parallel (batteries must be the same type, capacity and age).
This charger also features an additional socket for simultaneous trickle charging of a second independent battery, e.g. a leisure or auxiliary battery. The main battery will continue to be charged at full power, while the second battery is trickle charged at a maximum current of 2A.
This mains battery charger is compatible with Lead Acid, AGM and Gel batteries, with different charging programs available for each type.
Key features:
Safe unattended charging: the unit features inbuilt safety functions (protection against overload, overheating, overvoltage, short circuit, incorrect polarization and reverse discharge of the battery), which allow the charger to be left permanently connected to the battery for unattended automatic charging. The unit also features an integrated safety switch for added protection. Unlike many other mains chargers, the charging voltage is also free from peaks which offers smooth uninterrupted charging.

Continued charging during battery use: the charger will continue to operate at full power while energy is drawn from the battery during use. The unit will maintain the charge if the battery is already at full capacity.

Compatible with other charging sources: thanks to the inbuilt mains suppression filter, the batteries may be charged from alternative power sources, for example solar panels, wind/ petrol generators etc. whilst remaining connected to the mains battery charger.

'Silent Run' function: for quieter operation (e.g. during the night time), a noise-optimised mode can be enabled at the touch of a button. This will reduce the speed and noise emitted from the internal fan, and switch off the LED indicators. All charging functions will continue to operate as usual. Reactivation of the display and fan is possible at any time, or will recommence automatically after 10 hours.

Battery regeneration function: for batteries stored in non-moving vehicles, the unit features a regeneration function which is automatically activated twice a week to prevent acid accumulation in the batteries during extended periods of immobility.

Dead battery recovery function: for optimum charging of completely drained batteries, the charger offers a gentle preliminary charging stage, followed by a more powerful charging stage.

Power pack function: supply of power to charger output with no battery connected (e.g. battery replacement).
Additional features:
This automatic mains battery charger also features LED indicators to show battery charging status, various charging stages, charging current (with varying intensity, depending on current supplied) and battery connection status. The unit also features an internal fan to prevent overheating.
A 2m mains AC cable with a shock-proof UK 3-pin plug is also supplied with this product.
Click on the 'Details and Specifications' tab for more information about this product.
Specifications:
Nominal operating voltage (AC): 220-240V / 45-65 Hz
Operating Voltage range (AC): 190V - 265V (full capacity) / 300V (5 secs)
Max power consumption (AC): 320W
Max current consumption (AC): 1.4A
Operating temperature range: -20°C to +40°C
Ambient conditions: max. 95 % RH, No Condensation
Inbuilt fan
Protection class: IP21
Dimensions: 210 x 138 x 72 mm
Weight: 1.3 kg
Main battery charging parameters:
Nominal voltage: 12V
Acceptable battery capacity range (always check battery specifications first): 50Ah-230Ah
Bulk / absorption charging voltage: 14.3V - 14.7V (depending on the battery type)
Float charging voltage: 13.4V - 13.8V (depending on the battery type)
Charging voltage limit (protection of loads connected to the battery): 15.0V
Automatic external high voltage disconnect: 15.5V
This product is covered by a 2 year manufacturer warranty. For more information please refer to our Terms and Conditions.
Full details explaining wiring and operations can be found in the user manual supplied with this product (see Documents tab).
If you need help with installation or have any technical questions we can provide FREE support - please contact us by email or phone (see Contact Us page for more information).
The following documents are available to download: