TELL A FRIEND ABOUT THIS PRODUCT
Testimonials:
This arrived so fast, it must have been beamed over! 5*++++
Peter (Shoreham-by-Sea, West Sussex, UK) - June 2012
We are a trusted supplier to thousands of UK clients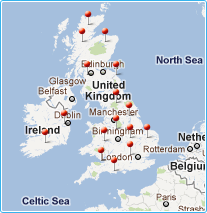 Hybrid off-grid inverters
Remote control panel for Iconica 5000VA 24V KMS hybrid pure sine wave inverters
Phone order?
Call our number
0203 150 1111
and quote the product code below
(have your card and delivery details ready)
Working hours Mon-Fri 9am-6pm
This remote control panel is designed for use with the Iconica 5000VA 24V hybrid pure sine wave inverters (model: IC-KMS5000-24), in order to remotely monitor and control an extensive range of system parameters. This remote panel provides the ideal solution if the inverter is being stored in a small compartment or difficult to reach location, where the LCD control panel on the unit itself is not easily accessible.
This remote panel features all the same capabilities as the inverter control panel, however this remotely accessible version is supplied with 6m RJ45 and RJ11 cables for long distance connection to the Iconica inverter. This remote panel features high quality aluminium casing and also comes with an optional external 5V power input.
Unit features:
The control panel features three LED indicators (AC/Inverter status, charging status, fault indicator), four multi-functional buttons, an audible fault alarm and an illuminated LCD display, with adjustable backlight and alarm settings available.
Viewable parameters:
Input source: AC input indicator, Solar input indicator, input voltage and frequency, solar panel voltage, battery voltage, charger current
Output: output voltage, frequency, load power and percentage, discharging current
Faults: over/ under voltage, overheating and short circuit warnings
Battery: level, charging status, capacity
Load: load level, overload indication
Mode: indicators show whether unit is connected to mains / solar panel, whether the load is being powered by mains, and whether the mains charger and DC/AC inverter circuits are working.
Adjustable settings:
Using this remote control panel, the user is able to remotely adjust a huge range of customisable settings relating to the inverter. These include:
AC output On/Off: The load output can be remotely turned On/Off using this control panel
Output source priority: This intelligent feature allows the user to set output source preferences (solar/ battery power/ mains input or a generator) for the AC load output of the inverter. This menu includes several options for varying conditions and scenarios, e.g. which source of energy is given priority for the AC output if solar power is insufficient/ if battery voltage is too low/ if mains is unavailable, etc.
Battery charging priority: A wide selection of battery charging priority options are available. For instance, the user can choose to charge the battery using solar power only/ using a combination of solar power and mains power/ from mains power only etc.
High/low voltage disconnect points: (and preferred charging source upon reconnection)
Charging stage characteristics: specify the duration and voltage of each charging stage
AC input range: choose the minimum / maximum range for the AC input
Battery type: choose from pre-set programs for sealed or flooded Gel or AGM lead acid batteries. There is also the option to select a user-defined battery type, with personalised settings for each charging stage.
Battery equalization stage characteristics: set voltages, times and schedule occurrence
Auto-restart options: specify conditions for power off / restart for when faults are detected
Power saving mode: reduces self consumption of inverter if required
Overload bypass: switches to line mode when overload occurs in battery mode
Audible alarm and backlight settings: set preferences for light intensity, screen timeout, alarm occurrence
Additional features:
This remote control panel also features a 5V power socket for an optional external input.
The unit is also supplied with a PC connectivity cable (RS232 / RJ45) so that the remote panel can be directly connected to a computer for accessing the PC monitoring software supplied with the Iconica inverter.
Click on the Details and Specifications tab for more information.
Specifications:
Only compatible with 5000VA 24V KMS

Iconica hybrid inverters, model

IC-KMS5000-24
RJ45 communication cable: 6 metres
RS232 / RJ45 cable: 2 metres
RJ11 cable: 6 metres
RJ45 communication board included
Optional input: 5V
Dimensions: 106.5 x 130 x 31.3 mm
Weight: 500g
This product is covered by a 1 year warranty. For more information please refer to our Terms and Conditions.
This product comes with a detailed user manual which explains wiring and operations (see Documents tab).
If you need help with installation or have any technical questions we can provide FREE support - please contact us by email or phone (see Contact Us page for more information).