TELL A FRIEND ABOUT THIS PRODUCT
Testimonials:
Everything is great. These guys are professionals. A pleasure to deal with. Thank you!!!
Juan (Toledo, Spain) - Feb 2017
We are a trusted supplier to thousands of UK clients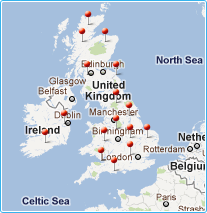 Back-contact solar panels
110W Semi-flexible Solar Panel with Round Rear Junction Box and 3m cable, with durable ETFE coating (Back-contact solar cells)
Phone order?
Call our FREE phone
0203 150 1111
and quote the product code below
(have your card and delivery details ready)
Working hours Mon-Fri 9am-6pm
At Photonic Universe we love high quality solar products. That's why we have developed this state-of-the-art solar panel made of back-contact solar cells - the newest generation of high efficiency solar cells. This 110W semi-flexible waterproof monocrystalline solar panel is perfect for permanent outdoor use to provide free electricity for charging 12V batteries to power various applications, such as in a motorhome, caravan, camper, boat, or for solar lighting systems, off-grid, and back up solar power systems. The panel can also be used to provide a direct power supply for applications not sensitive to changes in input voltage / current (e.g. electric motors or pumps) and for various grid-tie applications.
Efficient back-contact solar cells:
The back-contact solar cells used in this panel have a significantly higher efficiency compared to standard solar cells (which means they extract more sunlight energy from the same area). The back-contact solar cells used in this solar panel have an unparalleled efficiency of up to 25%, which makes this the smallest and most efficient 110W semi-flexible solar panel commercially available in the world. The solar cells used in this panel have been manufactured by SunPower - one of the largest US solar manufacturers, using the newest production equipment and cutting edge technology. If you would like to learn more about back-contact solar cells and their benefits, check out our article Introduction to back-contact solar cells which explains the differences between back-contact solar cells and regular front-and-back contact solar cells.
Highly durable ETFE coating:
This 110W semi-flexible solar panel is made of strong ETFE material which has a longer service life compared to standard semi-flexible solar panels. As a result, these particular semi-flexible solar panels are extremely robust and less prone to cracking , delamination and corrosion. The lightly textured coating of this panel creates an anti-reflective surface which allows the panel to absorb a far greater amount of light, thereby increasing efficiency. ETFE material has long been used in applications where durability and high-temperature resistance is required, such as in the Eden Project, Cornwall. You can read more about ETFE and its benefits here.
Simple, professional installation:
This particular model features the junction box and cable on the rear side of the panel to create a completely level surface and professional finish after installation. Unlike other solar panels, the junction box on this solar panel is a circular shape with only one dual core cable (3m length) attached, allowing for simplified installation. Please note: in order for this panel to be flush-mounted, a recess must be cut in to the roof/surface.
Key benefits:
Semi-flexible design makes it ideal for curved roofs and surfaces for bonding
Back-contact solar cells with efficiency of up to 25% make this panel ideal for applications where space is restricted, or with obstructions on the roof
Incredibly lightweight (only 2.33kg) which is great for all vehicles
High resistance to salt water environment (junction box and cables underneath are protected from contact with water) and possibility to walk on the panel make it perfect for boats and yachts
Sealed waterproof design ensures the panel can be used in all weather conditions
Junction box on the back allows for a smooth and level surface, free of trip hazards and unsightly cables. Round shape for easy fitting.
Fitted with a single length of high quality 3m dual core cable for easy installation and wiring
Click on the Details and Specification tab for more information about this product.
Solar panel specifications:
Peak power: 110W
Maximum power voltage: 18.6V
Maximum power current: 5.93A
Open circuit voltage: 22.0V
Short circuit current: 6.4A
Power allowance range: +/- 5%
Solar panel dimensions: 1060 x 540 x 3 mm
Junction box diameter: 30mm
Weight: 2.33 kg
1 x 3m high quality dual core solar cable attached (4mm cross section)
The product is covered by a 1 year workmanship warranty provided by Photonic Universe. We will repair or replace defective items at our discretion. For more information please refer to our Terms and Conditions.
In addition, solar cells are guaranteed to produce at least 90% of nominal power in 10 years after purchase and at least 80% of nominal power in 25 years after purchase. This warranty is provided by the manufacturer of solar cells.
Charging a 12V battery: Please note this panel requires a solar charge controller / regulator to charge a 12V battery. It cannot be connected directly to the battery.
Fitting: This panel is designed to be flush mounted and therefore requires a recess in the mounting surface in order to fit the rear junction box. Before installing this solar panel, please read the handling and fitting guidelines, available to download in the 'Documents' tab.
If you need help with installation or have any technical questions we can provide FREE support - please contact us by email or phone (see Contact Us page for more information).