TELL A FRIEND ABOUT THIS PRODUCT
Testimonials:
Very impressed quick to answer emails quick to send out 100% happy
Elizabeth (Sheffield, South Yorkshire, UK) - June 2012
We are a trusted supplier to thousands of UK clients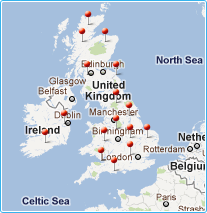 Wind Turbines
600W 24V high efficiency wind turbine with 5 blades
Phone order?
Call our number
0203 150 1111
and quote the product code below
(have your card and delivery details ready)
Working hours Mon-Fri 9am-6pm
This premium 600W 24V wind turbine provides an efficient and reliable source of electricity for all types of off-grid applications. This turbine features a highly efficient 5 blade heavy-duty construction designed to produce strong output in low winds, although it is ideal for use in a wide range of locations with varying degrees of wind speed. It is suitable for both stationary applications (remote, off-grid, backup) as well as for mobile use (e.g. boats).
This wind turbine is also the perfect addition to any solar charging kit to supplement energy production (particularly useful for charging at night time or in countries with reduced winter sunlight).
Key features:
This 600W 24V wind turbine is expertly designed to maximise efficiency in low wind speeds to provide stable and reliable power. Important characteristics include:
5 blade design: Produces strong output even in poor wind conditions and reduces the minimum required wind speed for start-up.
Heavy duty construction:This turbine boasts an extremely robust build, with strong cast aluminium alloy to ensure long-lasting use in harsh conditions. This also helps to achieve a significantly higher output than similarly rated 600W turbines in low winds.
Low noise and vibration: The intelligent mass distribution of each blade ensures that the rotor operates with minimal noise and vibration.
High quality Swedish bearings: Bearings from renowned Swedish manufacturer SKF guarantee smooth operation
Aerodynamic optimisation: Each blade is precision-engineered using sophisticated injection moulding techniques. They are reinforced with fibre glass and optimally shaped for maximum efficiency and protection from strong winds.
Automatic wind detection: The tail vane automatically seeks out the best wind direction and re-orients the turbine accordingly.
Patented permanent magnet AC generator: Features a special stator for effortless operation with minimal blade resistance.
Easy installation: Assembly of the turbine is extremely straightforward and requires minimal effort. Features a flange connector for quick fitting to a suitable mounting pole. The cable is fitted with a terminal block on the end for easy wiring.
Additional considerations:
The maximum output of this wind turbine is not strictly limited to a specific power rating. Although this wind turbine is rated to produce 600W at a wind speed of 12 metres per second, when exposed to strong winds it has the potential to exceed its nominal rating.
This wind turbine produces three-phase AC output and therefore requires a triple wire connection to a suitable charge controller.
A suitable pole for mounting is required (not included). Pole recommendations can be found in the Installation tab.
Click on the Details and Specifications tab for more information about this product.
Specifications:
Number of blades: 5
Rated power: 600W
Maximum power: 750W
Rated voltage: 24V
Rated current: 25A
Start-up wind speed: 2.5m/s
Cut-in wind speed: 3.5 m/s
Rated RPM: 650 RPM
Rated wind speed: 12 m/s
Survival wind speed: 35 m/s
Blade material: Nylon fibre
Generator case: Cast aluminium alloy
Working temperature: -20°C to +60°C
Cable: 1 x triple core cable with bare end
Dimensions:

Body length: 1.64m
Length of each blade: 80cm
Diameter of blades: 1.7m
Wind area: 2.27m²
Distance from blade to tower: 22.4cm
Distance from tail to tower: 1.33m
Flange connector diameter: 110mm

Weight:

Net weight: 35.4kg
Body weight: 21.3kg
Weight per blade: 1.18kg
Hub weight: 1.66kg

Compliance: CE, ISO 9001, RoHS
Screws included
This product is covered by a 1 year manufacturer warranty.
Installation and assembly of this wind turbine is extremely simple. The video below gives a brief guide to assembly of the wind turbine:
For full information regarding assembly and installation, please refer to the user manual supplied with this product (see Documents tab).
Please note that this wind turbine requires connection to a suitable charge controller in order to charge a battery.
This wind turbine requires a mounting pole, which is not included. The base of the wind turbine features a flange connector (diameter 110mm) which can be bolted to a suitable pole. We recommend using a metal pole for mounting, rather than poles made of timber or plastic, which may pose a safety hazard.