TELL A FRIEND ABOUT THIS PRODUCT
Testimonials:
I've got light and don't have to pay electric, fantastic! It gives out great light.
Sam (Sible Hedingham, Essex, UK) - Sept 2016
We are a trusted supplier to thousands of UK clients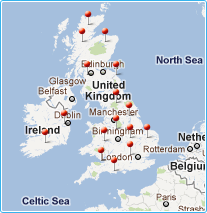 Wind Charge Controllers
24V Hybrid 600W wind + 500W solar controller with LCD display and dump load
Phone order?
Call our number
0203 150 1111
and quote the product code below
(have your card and delivery details ready)
Working hours Mon-Fri 9am-6pm
This hybrid wind and solar charge controller is designed to charge a 24V battery bank using energy generated from wind turbines and solar panels. This controller is ideal for hybrid power systems comprising of a solar array and wind turbine, as it can accept simultaneous input of up to 600W of wind power and 500W of solar power. Alternatively, the controller can be used with solar panels only, or with a wind turbine only.
This charge controller uses a combination of MPPT and PWM technology for optimum performance of the hybrid power system. The wind charging circuit of this controller features advanced MPPT boost charging technology to extract the maximum possible power from the wind turbine in low wind speeds, while the solar charging circuit uses PWM technology to optimise charge acceptance from the battery bank.
This wind and solar charge controller also comes with a separate dump load resistor to protect the battery from excessive charging.
Key features:
Hybrid capability: This charge controller can handle input from both solar panels and wind turbines, eliminating the need for two separate controllers. The controller can also be used as a wind controller or solar controller alone, offering the flexibility to upgrade to a hybrid system at any time.
High efficiency MPPT charging: Advanced Maximum Power Point Tracking (MPPT) technology is used to track the maximum power voltage point of the wind array as it varies depending on wind speed. This technology extracts the highest possible output from the wind generator.
Boost charging in low wind: When low wind speeds are detected and the wind turbine is unable to generate sufficient power or voltage to maintain optimal charging, the controller will automatically recognise this and boost the power and voltage accordingly.
Full safety protection: This controller features a range of protection functions, including protection against: reverse current backflow, battery open circuit, battery reverse polarity, overvoltage, overload, high wind speeds and lightning. This controller is also equipped with an intelligent automatic braking function - applied to the wind turbine when the battery is full, to protect the battery from overcharging. Automatic braking also helps to prevent damage to the wind turbine when high wind speeds are detected.
External dump load: As an additional safety precaution, this hybrid controller also comes with an external dump load for further system protection. The controller will automatically detect when the battery bank is full and divert any excess energy directly to the dump load unit, connected to the dump load terminals of the controller. This prevents damage to system components including the batteries and is particularly useful for applications with strong wind speeds where the battery is often rapidly charged.
Programmable lighting settings: If any 24V lighting is connected to the load terminals of the controller, the user can either choose from various pre-set lighting modes or configure a personalised lighting program with specific timers etc.
User-friendly interface: This controller is equipped with a digital LCD display, easy to use buttons and bright LED indicators. The LCD display shows important information such as battery voltage and capacity, charging current, connection status of the wind turbine, solar array, battery and load, daytime/nighttime detection and battery charging/discharging status. The LEDs also indicate the charging status of the controller as well as any system faults.
Compatibility:
This hybrid charge controller is compatible with 24V wind turbines with 3-phase AC output, and 24V solar panel arrays.
Click on the Details and Specifications tab for more information.
Specifications:
Battery voltage: 24V
Maximum solar input power: 500W
Maximum wind input power: 600W
Charging:

Charging current: 37.5A
Braking voltage: 28.8V

±

1%
Float voltage: 27.6V

±

1%
Recovery voltage: 26.4V

±

1%
Temperature compensation: -48mV

º

C

Discharging:

Disconnect voltage: 21.8V DC

±

1%
Recovery voltage: 24.6V DC

±

1%

Overvoltage:

Overvoltage cut-off: 32V DC

±

1%
Recovery voltage: 30V DC

±

1%

Idle current:

≤

0.1A DC
Voltage drop:

≤

0.5V DC
Ambient temperature: -25

º

C to +55

º

C
Altitude:

≤

5500m (reduce power use above 2000m)
Humidity: 0-90% (non-condensing)
Controller dimensions (including mounting edges): 166 x 142 x 66 mm
Controller weight: 1.23 kg
Dump load resistor dimensions (including mounting edges): 230 x 118 x 69 mm
Dump load resistor weight: 0.85 kg
This product is covered by a 1 year warranty. For more information please refer to our Terms and Conditions.
This product comes with an user manual which explains connection and operations (see Documents tab).
If you need help with installation or have any technical questions we can provide FREE support - please contact us by email or phone (see Contact Us page for more information).