TELL A FRIEND ABOUT THIS PRODUCT
Testimonials:
Great bit of kit at the best price. Deal with these people, they're great.
Steve (Harrogate, North Yorkshire, UK) - Sept 2017
We are a trusted supplier to thousands of UK clients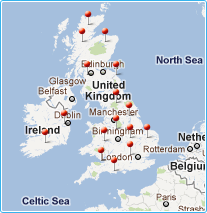 DC to DC Battery Chargers
Votronic VBCS triple charger: 45A DC-to-DC battery charger, 30A mains charger, 350W MPPT solar charger
Phone order?
Call our number
0203 150 1111
and quote the product code below
(have your card and delivery details ready)
Working hours Mon-Fri 9am-6pm
This Votronic 45A 12V automatic triple charger is an intelligent combination of a powerful 45A battery-to-battery charger, a wide-input 30A mains charger, and a high-efficiency 350W MPPT solar controller – all in one single unit.
The Votronic Triple Charger allows for easy and convenient setup of complex systems where the batteries can be charged from up to three different power sources. This charger is ideal for motor vehicles and boats with 2 different batteries or battery banks (domestic or leisure batteries and starter battery) as it can charge them independently using either solar or mains power, and can also keep the leisure battery topped up while the motor is charging the starter battery.
This product comes from Votronic, the leading German manufacturer of solar and vehicle electronics. German design, engineering and manufacturing ensure unrivalled quality and reliability.
The triple charger is comprised of the following 3 components:
1) 45A Battery-to-battery charger:
Easily create a dual battery system: When one 12V battery or battery bank is being charged from another source (such as a vehicle alternator) this unit will enable safe charging of a second 12V battery or battery bank from the same source.
Powerful DC charging: the second battery is charged at up to 45A, efficiently sharing an external charging source between the two batteries.
2) 30A Mains battery charger:
Powerful charging: charges one battery at up to 30A while simultaneously trickle charging a second battery.
Wide AC input range: ensures safe use with no settings changes on a variety of different generators and any mains grid worldwide.
Compatible with other charging sources: thanks to the inbuilt mains suppression filter, the batteries may be charged from additional power sources, for example alternators, wind / petrol generators etc. whilst remaining connected to the mains.
Dead battery recovery function: for optimum charging of completely drained batteries, the charger offers a gentle preliminary charging stage, followed by a more powerful charging stage.
Power pack function: supply of power to charger output with no battery connected (e.g. battery replacement).
AC Power limit switch: for applications where the mains power may be limited, e.g. if using a generator, this switch can reduce the power drawn from mains (to a 'medium' or 'low' charging rate) in order to prevent overload or shutdown of the AC power source.
3) 350W Solar charge controller:
Efficient MPPT solar charge controller:

the controller specifically pinpoints the maximum power voltage point of the solar panel(s) as it varies depending on sunlight exposure and temperature. This ensures the maximum output from the solar panels and shorter charging times.

Up to 350W solar power: connect up to 36V or up to 21A of solar power to charge the leisure battery.
Trickle charge: keeps the second battery topped up to maintain charge during periods of inactivity.
Additional features
Suitable for many different systems: the three charging sources can be used in any combination: individually, with any two, or all three.
Safe unattended charging: the unit features inbuilt safety functions (protection against overload, overheating, overvoltage, short circuit, incorrect polarization and reverse discharge of the battery), which allow the charger to be left permanently connected to the battery for unattended automatic charging. The unit also features an integrated safety switch for added protection. Unlike many other mains chargers, the charging voltage is also free from peaks which offers smooth uninterrupted charging.
Continued charging during battery use: the charger will continue to operate at full power while energy is drawn from the battery during use. The unit will maintain the charge if the battery is already at full capacity.
'Silent Run' function: for quieter operation (e.g. during the night time), a noise-optimised mode can be enabled at the touch of a button. This will reduce the speed and noise emitted from the internal fan, and switch off the LED indicators. All charging functions will continue to operate as usual. Reactivation of the display and fan is possible at any time, or will recommence automatically after 10 hours.
Battery regeneration function: for batteries stored in non-moving vehicles, the unit features a regeneration function which is automatically activated twice a week to prevent acid accumulation in the batteries during extended periods of immobility.
LED indicators: showing battery charging status, input charging sources, charging current (with varying intensity, depending on current supplied) and battery connection status. The unit also features an internal fan to prevent overheating.
Compatibility:
This battery charger is compatible with Lead Acid, AGM, Gel and LiFePO4 Lithium batteries, with different charging programs available for each type. In addition, the charger is compatible with Electroblock power distribution units and AES fridges.
Click on the 'Details and Specifications' tab for more information about this product.
Specifications:
Operating temperature range: -20°C to +45°C
Ambient conditions: max. 95 % RH, No Condensation
Inbuilt fan
Protection class: IP21
Dimensions: 217 x 85 x 250 mm
Weight: 2.85 kg
Battery specifications:
Nominal voltage lead acid: 12V
Nominal voltage LiFePO4: 12.0V - 13.3V
Recommended battery capacity range (always check battery specifications first): 68Ah-420Ah
Minumum recommended "Start II" battery capacity: 80Ah
Bulk / absorption charging voltage: 14.3V - 14.7V (depending on the battery type)
Float charging voltage: 13.4V - 13.8V (depending on the battery type)
Charging voltage limit (protection of loads connected to the battery): 15.0V
Overvoltage disconnect "Board I" battery (protection of the battery): 15.5V
Overvoltage disconnect "Start II" battery: 16.5V
Battery to battery charging mode:
Max charging current from "Start II" battery to "Board I" battery: 30A
Max consumption from "Start II" battery: 63A
"Start II" battery voltage range: 10.5V - 16.2V
Mains charging mode:
Nominal operating voltage (AC): 110-230V / 45-65 Hz
Operating Voltage range (AC): 90V - 270V (full capacity)
Max power consumption (AC): 520W
Max current consumption (AC): 5.5A
"Board I" battery charging current: 30A
"Start II" battery charging current: 4A
Solar charging mode:
Solar power capacity: 50W - 350W
Max solar current: 21.0A
Max solar voltage: 36V
"Board I" battery charging current: 25.5A
"Start II" battery charging current: 5A
This product is covered by a 2 year manufacturer warranty. For more information please refer to our Terms and Conditions.
Full details explaining wiring and operations can be found in the user manual supplied with this product (see Documents tab).
If you need help with installation or have any technical questions we can provide FREE support - please contact us by email or phone (see Contact Us page for more information).