Didn't find products you were looking for?
Tell us about them! We might have these products in stock, but not on the website, or may be we are planning to restock them soon.
Testimonials:
Prompt (same day), courteous and helpful email advice. Excellent product line. Would happily buy again.
David (Barry, Vale of Glamorgan, UK) - Dec 2017
We are a trusted supplier to thousands of UK clients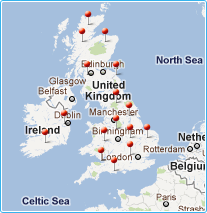 Household Solar Systems
A large, complete solar power kit - capable of running large everyday household appliances such as a washing machine, dishwasher and cooker, as well as small appliances such as computers, printers, lights, TV, fridge, and a kettle.

A small solar power kit, capable of running necessary electrical items such as a laptop, lights, and a small TV.

A medium-sized solar kit - capable of running everyday household appliances like a desktop computer, printer, lights, TV, fridge, and kettle.