Didn't find products you were looking for?
Tell us about them! We might have these products in stock, but not on the website, or may be we are planning to restock them soon.
Testimonials:
Good size 50W panel and thin. Just right for the van roof. Fast delivery. Thanks.
Alan (Catterick Garrison, Yorkshire, UK) - Feb 2017
We are a trusted supplier to thousands of UK clients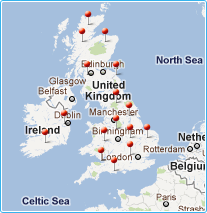 News
24.09.2013, 15:00
Photonic Universe now offers flexible solar panels made in Italy
We now have 130W flexible solar panels and charging kits in stock - 100% designed and made in Italy.
These products are manufactured using DAY 4 technology, which ensures high solar panel efficiency and low risk of solar cell microcracking. Solar kits come with an advanced solar charge controller with LCD display which are also made in Italy. There are a number of other benefits these products give - to understand them all please follow the links:
130W flexible solar panels (made in Italy)
130W flexible solar charging kits (made in Italy)