Didn't find products you were looking for?
Tell us about them! We might have these products in stock, but not on the website, or may be we are planning to restock them soon.
Testimonials:
Great after sales service, dealt with simply and efficiently. Thank you
Peter P - Jul 2021
We are a trusted supplier to thousands of UK clients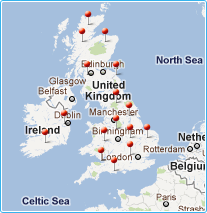 News
03.02.2020, 10:17
Votronic products to be discontinued in our catalogue
Dear Customers,

Due to a recent change of ownership of the German electronics manufacturer Votronic, as well as Brexit and changes to their distibution strategy in the UK, Votronic can no longer supply their products to us directly. As a result, all Votronic products in our catalogue will be discontinued when we run out of existing stock of their products. Please contact your account manager or one of our sales representatives for alternative products with similar functions and characteristics.

Please also note that as part of change of ownership, Votronic changed their legal name from Votronic Electronic Systems GmbH & Co. KG to VOTRONIC Elektronik-Systeme GmbH. All warranty obligations in relation to the existing products will continue to be served by the new company VOTRONIC Elektronik-Systeme GmbH which is a legal successor of the former company.