Didn't find products you were looking for?
Tell us about them! We might have these products in stock, but not on the website, or may be we are planning to restock them soon.
Testimonials:
There is nothing on this item that falls short of my expectation, even a functional protective bag and a spring loaded, fold flat carry handle, great!
Alan (Nuneaton, Warks, UK) - Nov, 2015
We are a trusted supplier to thousands of UK clients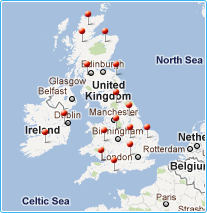 About us
Photonic Universe Ltd is a company based in London, United Kingdom. We focus on solar power products and complete solar systems for various applications. Thousands of our clients all over the world rely on our products to generate clean energy for their households, vehicles, boats and remote places with no access to mains supply such as farming, monitoring or telecommunications equipment.
History
Our business started in the UK in 2009 when we launched our first range of solar panels and charging kits for UK and European customers. Since then we gained extensive experience in the solar sector, significantly broadened our product range and expanded geographically. We now offer not only various types of solar products from solar panels to complete solar systems but also our technical expertise and consulting to customers across the globe.
Mission
We strongly believe that solar energy can provide significant benefits to people and will soon change the way how electricity is sourced and generated. Our aim is to spread knowledge and use of solar products across the world and make our environment better place to live. We are doing our best to allow you to buy high quality solar products at fair prices.
Brand
Photonic Universe is a registered trademark in the UK.

We invest a lot of efforts into bringing you high quality products and hope that our brand and logo will be a reassurance of trust and product excellence for you.