Didn't find products you were looking for?
Tell us about them! We might have these products in stock, but not on the website, or may be we are planning to restock them soon.
Testimonials:
150w panel is very good and works great in low light. I'm addicted to solar power!
Iain (Broxburn, W.Lothian, UK) - July 2015
We are a trusted supplier to thousands of UK clients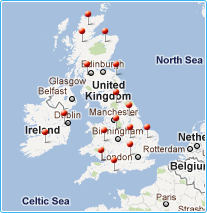 Career
Current open vacancies:
Assistant Engineer
(updated Aug 2017)
A new full-time role Assistant Engineer is available at the moment. It is focused on providing technical support and advice to our customers about our solar power products. This is an entry level position and specific work experience in the solar sector is not required (training and education will be provided). However we will only consider candidates with strong interest and prior basic knowledge of low voltage DC electrical circuits (work experience with DC electrics and / or a relevant university degree would be an advantage).
Main responsibilities for this role include:
- Advising new customers on the best configuration of solar power systems;
- Sizing solar charging kits for specific applications and providing wiring diagrams;
- Providing technical support to existing customers in relation to wiring and installation;
- Troubleshooting problems with systems or components;
- Working in close contact with sales advisers to support the sales process;
- Content-based work (user manuals, technical articles, FAQs etc) - Help with order processing, dispatch and records.
Applicants must meet the following requirements:
- Prior basic knowledge of low voltage DC electrical circuits with batteries (work experience or a relevant university degree will be an advantage);
- Excellent computer skills (Microsoft Word, Excel, email clients);
- Excellent written and verbal communication skills are required. English as a native language is an advantage.
The role is based in our office in Orpington, South East London (postcode BR5 3QB). Standard working hours 9am-6pm Mon-Fri.
Attractive compensation package (in the region of £20,000 – £25,000 pa), annual holiday, fast career progression and further benefits will be offered to a successful candidate. Comprehensive training and education will be provided at the start and during the induction period.
If you meet the above requirements and are interested in an exciting renewable energy sector, please apply with your CV by email career@photonicuniverse.com. If you need more details about the role please phone 020 3150 1111 Mon-Fri 9am-6pm.