TELL A FRIEND ABOUT THIS PRODUCT
Testimonials:
Brilliant thankyou very much! Customer service, second to none!
Chris (Fleckney, Leicestershire, UK) - July 2014
We are a trusted supplier to thousands of UK clients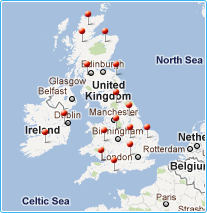 Extra large solar panels 180W-300W
200W (100W+100W) solar panels with 2x5m cable for motorhome, caravan, boat or any 12V / 24V battery system
Phone order?
Call our FREE phone
0800 755 5050
and quote the product code below
(have your card and delivery details ready)
Working hours Mon-Fri 9am-6pm
At Photonic Universe we always make sure that the quality of our products is high. That's why we selected one of the leading German companies SolarWorld as a supplier of solar cells for these solar panels. SolarWorld, an established German solar company with excellent reputation, was also the company that purchased solar manufacturing plants from BOSCH in 2013/2014, to become one of the largest solar manufacturers in Germany and a well-recognised solar industry player globally. SolarWorld solar cells used in our solar panels have great performance in low light conditions (particularly compared to "no-name" / "no-brand" solar cells of unknown origin) and they produce good amount of power even without direct sunlight, such as in the morning or evening, or in cloudy weather. Please note that SolarWorld is a supplier and manufacturer of only the solar cells for our solar panels - i.e. they produced the key component of our solar panels which generates electricity. SolarWorld is not a manufacturer of the whole solar panel.
This package includes 2 x 100W high efficiency waterproof monocrystalline solar panels, each with 5m cable and MC4 connectors. This 200W system is great for permanent outdoor use to provide free energy for charging a 12V or 24V battery (or bank of several batteries) to power various devices for many applications such as in a camper van, boat, house or garden, as well as for farming, lighting, telecommunications or monitoring equipment. Each of 2 x 100W solar panels is fitted with 5m cable specially designed for solar panels to carry high currents with negligible power loss. The cable also comes with waterproof MC4 connectors which can be used for easy connectivity if your existing system also has MC4 connectors (otherwise you can just cut them off and use bare wires).
The long-lasting, high-efficiency monocrystalline German solar cells and the tough, sealed, aluminium frames will give you years and years of consistent, free power. Waterproof design ensures panels can be used in all weather conditions.
These solar panels require a 12V/24V solar charge controller for charging a battery or battery bank. To view the full range of solar charge controllers we offer please check Solar Charge Controllers category of our online shop.
Click on the Details and Specifications tab for more information about this product.
Each solar panel has the following specifications:
Peak power: 100W
Maximum power voltage: 17.5V
Maximum power current: 5.71A
Open circuit voltage: 21.6V
Short circuit current: 6.17A
Power allowance range: +/- 3%
Dimensions: 945*670*30 mm
Weight: 8.5 kg
4 mounting holes 9 x 11 mm
2x5m of high quality single core solar cable 4.0mm cross section
Male and female MC4 connectors
The product is covered by 1 year workmanship warranty provided by Photonic Universe. We will repair or replace defective items at our discretion. For more information please refer to our Terms and Conditions.
In addition, solar cells are guaranteed to produce at least 90% of nominal power in 10 years after purchase and at least 80% of nominal power in 25 years after purchase. This warranty is provided by the manufacturer of solar cells.
For installation advice please click on the Installation tab.
These solar panels do not include an installation manual as they need to be connected to further devices such as a solar charge controller or inverter which have a manual.
Wiring scheme: 2 x 100W solar panels should be connected in parallel ("+" to "+", "-" to "-") for charging 12V battery or battery bank or in series ("+" of one panel to "-" of the other panel, and the other "+" and "-" to the solar controller) for charging 24V battery or battery bank.
If you are planning to use this solar system for charging a 12V / 24V battery, we recommend purchasing it with one of our solar charge controllers. All our solar charge controllers include instruction manuals which explain installation in detail and contain wiring diagrams.
If you need help with installation or have any technical questions we can provide FREE support - please contact us by email or phone (see Contact Us page for more information).