Didn't find products you were looking for?
Tell us about them! We might have these products in stock, but not on the website, or may be we are planning to restock them soon.
Testimonials:
Thankyou so much for a fantastic product that does what it says on the tin - it charges even in the lowest light!
Chris (Bristol, Avon, UK) - May 2015
We are a trusted supplier to thousands of UK clients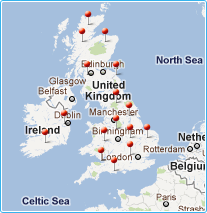 About us
Photonic Universe Ltd is an established supplier of solar, wind and other battery charging solutions based in London, United Kingdom.
We primarily offer solar and wind power products, including complete solar systems for various applications. Our thousands of worldwide clients rely on our products to generate clean energy for their households, vehicles and boats, as well as in remote areas with power requirements for farming, monitoring or telecommunications purposes.
History
Our company was founded in 2009 when we launched our first range of solar panels and charging kits within the UK and European markets. We have since gained extensive experience in the renewable energy sector, whilst significantly expanding our product range and geographical client reach. Our vast product catalogue now includes wind turbines, inverters, batteries and various battery chargers and monitors. We also offer our technical expertise and consultation services to customers across the globe.
Mission
We strongly believe that solar and wind energy will soon revolutionise the way in which electricity is sourced and generated. Our aim is to spread awareness of the possibilities created by solar and wind power and encourage their use on a global scale. By doing this, we hope to contribute towards the protection and conservation of our environment, making the world a better place to live.
At Photonic Universe, we consistently strive to provide all of our high quality products at fair and competitive prices.
Brand

We are dedicated to providing our customers with the highest quality products, in the hope that our brand serves as an assurance of trust and product excellence.
Photonic Universe is a registered trademark in the UK.