TELL A FRIEND ABOUT THIS PRODUCT
Testimonials:
Great product....really impressed with how much light the 25W system produces
Richard (Liskeard, Cornwall, UK) - Oct 2017
We are a trusted supplier to thousands of UK clients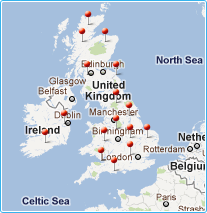 Medium solar panels 20W-60W
30W polycrystalline solar panel with 5m cable
Phone order?
Call our number
0203 150 1111
and quote the product code below
(have your card and delivery details ready)
Working hours Mon-Fri 9am-6pm
This 30W polycrystalline solar panel is perfect for permanent outdoor use to provide free electricity for charging 12V battery to then power various applications. It's great for motorhomes, caravans, campers, boats, or for solar lighting, off-grid or back up power systems (in a garage, shed, farm etc).
The long-lasting, high-efficiency, polycrystalline solar cells and the tough, sealed, aluminium frame will give you years and years of consistent, free power. Waterproof design ensures the panel can be used in all weather conditions.
The panel comes with 5m of thick twin core cable which is attached to the waterproof junction box at the back. Please note that the junction box goes about 0.5cm beyond the frame, so there must be some space left between the frame and flat surface when mounting the panel (note 1.0 - 1.5cm space under the panel typically recommended for cooling when mounting it permanently).
If you are planning to use this solar panel for charging a 12V battery: please note this panel requires a solar charge controller / regulator to charge a 12V battery. If you don't have one and would like to buy it, please check our shop category with solar charge controllers.
If you already have one of our 30W solar panels or kits with a solar controller, you can easily upgrade the power of your kit to 60W by adding this panel in parallel to the existing 30W solar panel (connecting 2 panels: "+" to "+", "-" to "-" and then to the solar controller).
Solar panel specifications:
Peak power: 30W
Maximum power voltage: 17.5V
Maximum power current: 1.71A
Open circuit voltage: 21.6V
Short circuit current: 1.85A
Power allowance range: +/- 3%
Dimensions: 50.5 x 44.5 x 2.5 cm
Weight: 3.2 kg
4 mounting holes
5m of twin core cable attached
The product is covered by 1 year workmanship warranty provided by Photonic Universe. We will repair or replace defective items at our discretion. For more information please refer to our Terms and Conditions.
In addition, solar cells are guaranteed to produce at least 90% of nominal power in 10 years after purchase and at least 80% of nominal power in 25 years after purchase. This warranty is provided by the manufacturer of solar cells.
This solar panel does not include an installation manual as it needs to be connected to further devices such as a solar charge controller or inverter which typically have a manual.
If you are planning to use this panel for charging a 12V battery, we recommend purchasing it with one of our solar charge controllers. All our solar charge controllers include an instruction manual which explains the installation in detail and contains wiring diagrams.
If you need help with installation or have any technical questions we can provide FREE support - please contact us by email or phone (see Contact Us page for more information).