TELL A FRIEND ABOUT THIS PRODUCT
Testimonials:
As described and looks like it will stand the test of time!
Peta (Dunstable, Bedfordshire, UK) - Oct 2017
We are a trusted supplier to thousands of UK clients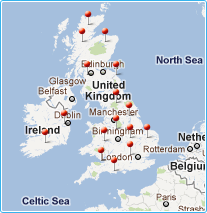 MPPT controllers
High efficiency 45A 12V/24V/36V/48V MPPT solar charge controller for up to 150V / 2.4kW solar input
Phone order?
Call our number
0203 150 1111
and quote the product code below
(have your card and delivery details ready)
Working hours Mon-Fri 9am-6pm
This solar charge controller uses the most advanced Maximum Power Point Tracking (MPPT) technology to track the maximum power voltage point of solar panels as it varies depending on sunlight exposure and temperature. This technology ensures the maximum efficiency of your solar system and can also boost charging current, meaning that this controller will significantly outperform any similar standard PWM solar controller.
Another benefit of MPPT technology is the wide solar input voltage range - this controller can efficiently charge 12V, 24V, 36V and 48V batteries, using input from solar panels with a voltage of up to 150V.
The maximum allowed solar power input depends on the battery voltage:
600W with 12V battery
1200W with 24V battery
1800W with 36V battery
2400W with 48V battery
This unit features a comprehensive set of electronic protection functions such as protection from over charging, over heating, PV over current, PV short circuit and reverse polarity.
Other features include:
LED indicators and LCD display
Computer USB connectivity (RS-232, RS-485) for data analysis, settings and software updates (cable and software included)
Automatic storage of 450 days of data
Remote temperature sensor with 5m cable (included)
The controller works in a fully automated mode. Advanced users will benefit from a wide range of manual control settings, such as charging voltage, duration of charging stages, temperature compensation and many other charging parameters specific to your battery.
Click on the Details and Specifications tab for more information
Controller specifications:
Advanced MPPT tracking technology to ensure high efficiency of your solar system
Fully automated operation and auto 12V/24V/36V/48V selection
Terminals for wires up to 35mm2
Maximum solar panel voltage: 150V
Maximum solar panel power: 600W (12V) / 1200W (24V) / 1800W (36V) / 2400W (48V)
Remote temperature sensor for automatic compensation
Comprehensive electronic protection features
Self-consumption: 1.4 - 2.2W
Working temperature: -25C to +55C
Size: 40 x 21 x 11 cm
Weight: 4.3 kg
Multiple mounting holes for ease of installation
Installation CD and USB connection cable for collecting and monitoring performance on a PC
This product is covered by a 2 year manufacturer warranty. For more information please refer to our Terms and Conditions.
The controller comes with a detailed instruction manual (see Documents tab). Advanced users will benefit from a section explaining MPPT technology, as well as network connectivity and parameter settings.
Software for monitoring solar input is included, as well as a USB cable for connection to your PC.
If you need help with installation or have any technical questions we can provide FREE support - please contact us by email or phone (see Contact Us page for more information).