TELL A FRIEND ABOUT THIS PRODUCT
Testimonials:
By far the best regulator I've bought anywhere near this price.
Tony (London, UK) - Oct 2017
We are a trusted supplier to thousands of UK clients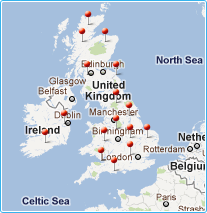 MPPT controllers
10A 12V/24V buck boost high efficiency MPPT solar charge controller for vehicles, boats, lighting and off-grid solar systems
Phone order?
Call our number
0203 150 1111
and quote the product code below
(have your card and delivery details ready)
Working hours Mon-Fri 9am-6pm
This 10A 12V/24V Maximum Power Point Tracking (MPPT) solar charge controller has a special buck boost technology which converts any voltage from a solar panel to the right charging voltage required by your battery. This controller is one step ahead of conventional MPPT controllers which require the solar panel voltage to be always higher than the battery voltage. For example, it allows a combination of 9V solar panel and 12V or 24V battery. It also has all other benefits of an MPPT controller such as higher energy yield.
The unit features a full set of electronic protection functions such as automatic cut off to prevent over-charging and deep discharge, stopping back feed at night, over load, short circuit and reverse polarity protection.
The LCD display shows a lot of useful information: power, voltage and current for the solar panel and battery, energy counter, temperature, load parameters etc.
Other features include 18 load work programmes, a remote temperature sensor and pre-set programmes for various battery types: sealed, gel, flooded lead acid batteries and lithium batteries. Advanced configuration of battery charging voltages is also possible.
The controller is suitable for solar panels with open circuit voltage up to 40V and maximum power up to 120W (when charging a 12V battery) / up to 220W (when charging a 24V battery).
Controller specifications:
The most advanced MPPT technology to ensure high efficiency of your solar system
Brand new advanced buck boost technology enabling the voltage increase of your solar panels
Fully automated operation and auto 12V/24V battery voltage selection
3 pairs of terminals (input, battery, load) for wires up to 10mm2
Maximum solar input 120W (12V battery) / 220W (24V battery) up to 40V
Battery temperature sensor with automatic compensation (-24mV/C)
Comprehensive electronic protection features
Self-consumption: 12.7mA
Working temperature: -10C to +40C
Size: 16 x 13.5 x 5cm
Weight: 515g
Multiple mounting holes for ease of installation
The product is covered by 5 year manufacturer warranty. For more information please refer to our Terms and Conditions.
The unit comes with a detailed user manual which explains wiring and operations (see Documents tab)