TELL A FRIEND ABOUT THIS PRODUCT
Testimonials:
Can't praise this solar panel enough, it's fantastic for my stables. Brilliant.
Barbara (Dewsbury, West Yorkshire, UK) - May 2016
We are a trusted supplier to thousands of UK clients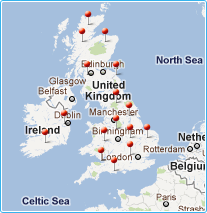 Morningstar controllers
Morningstar TriStar 60A PWM solar / wind controller for caravans, motorhomes, boats and yachts
Phone order?
Call our number
0203 150 1111
and quote the product code below
(have your card and delivery details ready)
Working hours Mon-Fri 9am-6pm
As an official distribution partner of Morningstar products across the globe, we are proud to offer solar charge controllers from this world-leading supplier. Innovative design from years of dedicated research and superior build quality enable these top-of-the-range solar charge controllers to extend battery capacity and life, maximise energy production, and consistently achieve high performance standards.
This high quality Morningstar TriStarTM 60A PWM charge controller is a technically advanced solar system controller, suitable for 12V, 24V or 48V battery banks. With reliable solar battery charging, load control or diversion regulation, this controller is compatible with solar, wind or hydroelectric renewable installations.
The controller is designed to protect batteries whilst charging them, providing automatic cut off to prevent over-charging and deep discharge. It comes with a full range of protection functions: overload, short circuit, high voltage, reverse polarity, high temperature, lightning and transient surges, reverse current at night.
Other key features include:
Extremely high reliability, with a large heat sink for high operating temperatures and a long 5 year warranty
Parallel connectivity, to allow two or more controllers for large solar arrays or in a hybrid power system
Four stage series PWM pulse charging increases your battery life
Communication capabilities with a personal computer for custom settings, data logging and remote monitoring
Easy to install and use, with factory pre-sets, fully automatic operation and fault recovery
This controller can work with sealed, gel and flooded batteries.
The controller can also be connected to the TriStar remote meter with 30m extension cable (sold separately) to view detailed charging parameters and remotely monitor your system.
Click on the Details and Specifications tab for more information
Controller specifications:
Nominal battery voltage: 12V / 24V / 48V
Rated charging, load current, diversion current: 60A
Solar input voltage up to 125V
3 pairs of terminals (input, battery, output), plus ports for computer connectivity and an optional remote meter
Multi-colour LEDs to indicate charging and battery status
Temperature sensor for automatic compensation (-5mV/C/24V) operating between -30°C and +80°C
Minimum voltage to operate: 9V
Self-consumption: < 20mA
Working temperature: -40°C to +45°C
Humidity: 100% non-condensing
Enclosure: IP10 (indoor)
Size: 260.4 x 127 x 71 mm
Weight: 1.6 kg
Mounting holes for ease of installation
This product is covered by a 5 year manufacturer warranty. For more information please refer to our Terms and Conditions.
This product comes with an instruction manual (see the 'Documents' tab) which explains connections and operations.
If you need help with installation or have any technical questions we can provide FREE support - please contact us by email or phone (see Contact Us page for more information).