TELL A FRIEND ABOUT THIS PRODUCT
Testimonials:
Great after sales service, dealt with simply and efficiently. Thank you
Peter P - Jul 2021
We are a trusted supplier to thousands of UK clients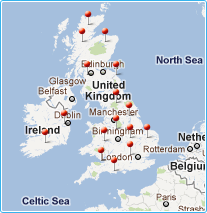 24V off-grid inverters
300W 24V pure sine wave power inverter 230V AC output (UK socket), with powerful USB charging port
Phone order?
Call our number
0203 150 1111
and quote the product code below
(have your card and delivery details ready)
Working hours Mon-Fri 9am-6pm
What is a power inverter?
A power inverter is a device which converts battery output (DC, or direct current) into 230V AC mains electricity (alternating current). 230V AC is the type of electricity supplied by utility companies to run standard domestic appliances such as a TV, fridge, radio, lights or to charge a laptop / mobile phone etc. If you have a battery, connecting a power inverter will enable you to power household appliances in areas with no access to mains electricity; such as in a motorhome, caravan, boat, farm or any other remote location. Inverters are also perfect for off-grid and back up systems for accidental power cuts.
This is a 300W 24V pure sine wave power inverter which can generate 300W of continuous power and up to 600W of power at peak times (peak time reserve capacity is useful if more energy is required to start an appliance than for its continuous running).
This is a pure sine wave type of inverter, which means that the 230V AC output harmonically follows a smooth sine wave and is almost identical to normal mains electricity. Pure sine wave output is far superior than square sine wave or modified sine wave output for running appliances. This is because:
It is suitable for a broader range of appliances (for example, appliances with electric motors can not be powered by modified sine wave inverters)
It is more efficient compared to modified sine wave inverters.
This product comes with important protection and safety features, such as over-discharge, overload, overheating and short-circuit automatic shutdown.
The inverter also features a powerful USB port for faster charging of mobile phones, MP3 players and other USB-compatible devices (2.1A). This item is also supplied with 0.5m battery cables (4mm2 cross section).
Which appliances can be powered?
If you are unsure whether 300W is sufficient for your appliances, please refer to the following article:
How to choose a power inverter for your motorhome, campervan or boat
Click on the Details and Specifications tab for more information
Specifications:
Continuous power: 300W
Surge power: 600W (1/2 second)
Input: 24V (20-30V) DC
Output: 230V AC
Output frequency: 50 Hz
Output waveform: pure sine wave
THD: < 3%
Peak efficiency: 90%
Low battery shut down: 19.4V - 20.0V DC
Low battery alarm: 20.0V - 21.0V DC
High voltage shut down: 30.0V +/- 1V DC
Includes 0.5m battery cables (4mm2 cross section)
Size:

21.5 x 15 x 6 cm

Weight:

1.4kg
This product is covered by a 1 year warranty. For more information please refer to our Terms and Conditions.
This product comes with a user manual which explains wiring and operations (see Documents tab).
Simply connect it to your 24V battery or battery bank using the "+" and "-" cables supplied with the unit, plug your appliances into the inverter socket, and turn the power switch on. An adaptor may be used for more sockets, provided that the total power consumption of all appliances connected to this inverter is within 300W.
Note for users of our solar charging systems: this inverter can be connected to your 24V battery / battery bank alongside any of our solar systems or charging kits. If you already have one of our 24V solar charging kits with a charge controller connected to your 24V battery, you can simply add this inverter to your existing system (connect the inverter to your battery in parallel with the solar controller and 24V appliances). If the solar charge controller has a pair of "load" terminals, please do not connect the inverter to this pair of terminals as the power may be too high for the solar controller. We recommend connecting it to your 24V battery directly.
If you do not currently have one of our 24V solar charging kits but plan on building an off-grid solar system with 230V mains output, we recommend using 24V batteries / 24V solar charging kits and this inverter with a 24V input voltage, rather than having all 12V components and an inverter with a 12V input voltage. Higher voltage of the system components is beneficial because:
Cables for 24V do not have to be as thick as those required for 12V
Input into the power inverter will have a twice as low current (Amps) making the whole system more stable and reliable.
If you need help with installation or have any technical questions we can provide FREE support - please contact us by email or phone (see Contact Us page for more information).