TELL A FRIEND ABOUT THIS PRODUCT
Testimonials:
Many thanks 10-10 this is how business should be done. First class....
Tom (Ayr, East Ayrshire, UK) - March 2015
We are a trusted supplier to thousands of UK clients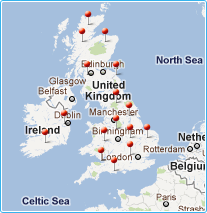 DC to DC Battery Chargers
20A 12V DC to 12V DC Automatic Multi-Stage Battery-to-Battery Charger with Solar Input for Lead Acid, Calcium or Lithium-ion Batteries
Phone order?
Call our number
0203 150 1111
and quote the product code below
(have your card and delivery details ready)
Working hours Mon-Fri 9am-6pm
Function:
This powerful, high-quality battery to battery charger can charge a 12V battery from another 12V battery with its own power source, or from a solar panel using its built-in solar input, at up to 20A. The fully-automatic battery charger uses an intelligent, multi-stage charging program that can be set to a wide variety of battery types using easy, one-button programming and features a full suite of electronic protections.
This system is ideal for caravans, campervans, motorhomes or boats, where the alternator charging can be shared between the starter and leisure batteries while the engine is running, then the leisure battery can be kept topped up from solar power while the vehicle is parked. By combining two chargers into one unit the set-up and operation are made simple, allowing you to easily share an existing charging source between two batteries or battery banks and utilise solar power to extend your off-grid runtime.
Key Features:
Powerful solar charge controller with overload protection: compatible with solar panel(s) up to 20A at 16-25V, automatically activates when there is no battery-to-battery charging.

Fully-automatic, high-frequency, multi-stage charging: ensures the battery is charged safely and quickly. Pulsed charging keeps temperatures low and evens electrolyte consistency to ensure a long battery life.

Easy battery type selection: with the push of a button, the unit can be switched between Lead Acid, AGM/Gel, Calcium, or Lithium-ion battery types. The unit remembers the battery type even without power, so there is no need to reprogram the unit if the battery supply is turned off.

Safe unattended charging: the unit features inbuilt safety functions (protection against overload, overheating, overvoltage, over-discharge, short circuit, and reverse discharge of the battery), which allow the charger to be left permanently connected to the batteries for unattended automatic charging.

Continued charging during battery/load use: the charger will continue to operate at full power whilst energy is drawn from the battery during use. The unit will maintain the charge if the battery is already at full capacity. Any 12V loads may also be left permanently connected and running whilst the DC-to-DC charger is in operation, and will be protected against overvoltage and voltage fluctuations.

Ignition on/off control: by connection to the ignition control, this charger can be set to begin battery-to-battery charging immediately when vehicle ignition is turned on and stop charging when the vehicle is turned off.

Deep discharge recovery: with a soft-start charging program and a minimum output battery voltage of only 2.5V, this charger is capable of recovering batteries from extremely high depth of discharge.
Additional features:
This charger also features LED indicators to show target battery charging stage, power source and selected battery type.
Compatibility:
This DC-to-DC battery charger is suitable for use with any 12V lead acid, AGM, Gel, Calcium or Lithium batteries. It is not compatible with 24V batteries or a combination of 12V and 24V batteries.
Click on the 'Details and Specifications' tab for more information about this product.
Charger specifications:
Battery input voltage: 12.5 - 16.0V
Maximum charging current: 20A
Solar input voltage: 16.0 - 25.0V
Maximum solar input current: 20A
Minimum output battery voltage: 2.5V
Bulk charge voltage: 14.3V (AGM/Gel), 14.0V (Lead Acid), 15.0V (Calcium), 14.0V (Li-ion)
Float charge voltage: 13.5V
Float charge current: 100mA
Battery capacity: 18 - 250Ah
Dimensions (excluding cable): 21 x 13 x 4 cm
Weight: 900g
The product is covered by 1 year manufacturer warranty. For more information please refer to our Terms and Conditions.
The product comes with a user manual which explains wiring and operations.
Note: the optional ACC ignition control can activate the battery-to-battery charging even when there is no external charging, which can lead to discharge of the source battery. In a vehicle, this may discharge the starter battery too low to start the engine. Excercise caution and monitor the system closely when the ignition is turned on but the engine is off.
If you need help with installation or have any technical questions we can provide FREE support - please contact us by email or phone (see Contact Us page for more information).