TELL A FRIEND ABOUT THIS PRODUCT
Testimonials:
I really appreciate my cooperation with Tom Butler. Very pleasant way of communication, professional help, immediate reaction and support. Thank you!
Iveta K - Feb 2021
We are a trusted supplier to thousands of UK clients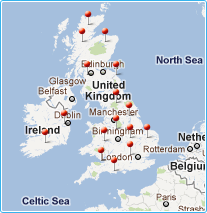 Wind Turbines
600W 24V wind turbine with 3 blades
Phone order?
Call our number
0203 150 1111
and quote the product code below
(have your card and delivery details ready)
Working hours Mon-Fri 9am-6pm
This 600W 24V wind turbine provides a reliable source of electricity for all types of off-grid applications. The three blade construction optimises this wind turbine for use in areas with moderate to high wind speeds. Ideal locations include open fields, coastal areas, and areas of high ground, such as hills or mountainous regions. It is suitable for both stationary applications (remote, off-grid, backup) as well as for mobile use (e.g. boats).
This wind turbine is also the perfect addition to any solar charging kit to supplement energy production (particularly useful for charging at night time or in countries with reduced winter sunlight).
Key features:
This 600W 24V wind turbine is expertly designed to provide stable and reliable power in all wind conditions. Important characteristics include:
Robust design: The casing of this turbine is made of strong cast aluminium alloy to ensure long-lasting use in harsh conditions.
3 blade construction: Optimised design for medium and high wind speeds, making it the perfect turbine for open and coastal areas
Aerodynamic optimisation: The blades are optimally shaped for maximum efficiency and protection from strong winds.
Automatic wind detection: The tail vane automatically seeks out the best wind direction and re-orients the turbine accordingly.
Patented permanent magnet AC generator: Features a special stator for effortless operation with minimal blade resistance.
Adjustable tube connector: Suitable for a wide range of mounting poles, including those typically used for scaffolding.
Easy installation: Assembly of the turbine is extremely straightforward and requires minimal effort.
Additional considerations:
The maximum output of this wind turbine is not strictly limited to a specific power rating. Although this wind turbine is rated to produce 600W at a wind speed of 11.5 metres per second, when exposed to strong winds it has the potential to exceed its nominal rating.
This wind turbine produces three-phase AC output and therefore requires a triple wire connection to a suitable charge controller.
A suitable pole for mounting is required (not included). Pole recommendations can be found in the Installation tab.
Click on the Details and Specifications tab for more information about this product.
Specifications:
Number of blades: 3
Rated power: 600W
Maximum power: 680W
Rated voltage: 24V
Start-up wind speed: 2.5m/s
Rated wind speed: 11.5 m/s
Survival wind speed: 45 m/s
Blade material: Nylon fibre
Generator type: Three phase permanent magnet AC synchronous generator
Magnet material: Neodymium Iron Boron
Generator case: Cast aluminium alloy
Control system: Electromagnet / Wind wheel yaw
Working temperature: -40C to +80C
Tube connector diameter: 60mm (adjustable)
Cable: 3 single core cables with bare ends. Length: approx. 10cm / Cross section: 2.5mm2
Net weight: 16kg
Diameter of blades: 1.75m
Compliance: CE, ISO14001, ISO 9001, TUV
Screws included
This product is covered by a 1 year manufacturer warranty.
Installation and assembly of this wind turbine is extremely simple. For further information, please refer to the detailed user manual supplied with this product. Please note: The picture above and component list in the user manual are not entirely accurate and shows a different connector type to the tube connector which is supplied.
Please note that this wind turbine requires connection to a suitable charge controller in order to charge a battery.
This wind turbine requires a mounting pole, which is not included. The base of the wind turbine features an adjustable tube connector (diameter 60mm) which can be expanded to accommodate a wider pole or secured around a narrower pole using bolts and additional holes. We recommend using a metal pole for mounting (e.g. a scaffolding pole) rather than poles made of timber or plastic, which may pose a safety hazard.