TELL A FRIEND ABOUT THIS PRODUCT
Testimonials:
Second solar panel from Photonic. Always a good quality product. AA+++
Douglas (Cambridge, UK) - Oct 2017
We are a trusted supplier to thousands of UK clients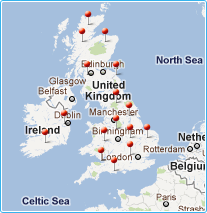 Victron Controllers
Victron SmartSolar Pluggable LCD Display screen for SmartSolar MPPT solar charge controllers
Phone order?
Call our number
0203 150 1111
and quote the product code below
(have your card and delivery details ready)
Working hours Mon-Fri 9am-6pm
Photonic Universe is an official distributor of products from Victron Energy - the globally renowned manufacturer of high quality hybrid power charging solutions. Victron Energy solar charge controllers and accessories have a longstanding reputation for their outstanding reliability, innovative design and superior build quality.
This Victron SmartSolar plug-in display is designed for use with Victron SmartSolar MPPT controllers with a display connection area (such as models VSSM150-45, VSSM150-60, VSSM150-85 or VSSM150-100) to enable the advanced programming and monitoring features of the solar charge controller.
Key functions:
Simply remove the rubber seal on the face of your SmartSolar controller and plug in this LCD display to access a range of monitoring and programming functions, including:
- Live data transmission: Real-time information is displayed including solar panel output, battery voltage and current, load status and current, and charging stage information.
- Relay programming: SmartSolar controllers feature relay contacts which can be programmed to set off an alarm when specified high/low battery voltages/ a high solar panel voltage or high/low temperatures are reached. The relay can also be programmed to automatically activate a generator if required.
- 30-day data logs: System activity is available to view, either as today's values or as cumulative values for the past 30 days. Daily data displayed includes: energy yield, maximum recorded power and voltage, time spent in each charging stage, maximum battery current, minimum and maximum recorded battery voltages and daily error records. 30 day data includes: total cumulative energy yield, maximum recorded solar panel voltage, minimum and maximum recorded battery voltage, and recent errors.
- User-defined battery charging algorithm: Option to disable preset values in favour of personalised charging parameters, including user-defined absorption voltage, absorption time, float voltage, equalisation voltage and temperature compensation settings.
- Load configuration: For SmartSolar MPPT controllers with load terminals, there is the option to choose from one of the pre-set load management programs or to create a user-defined load program with personalised voltages.
- Temperature sensor readings: Temperature values are available to view for both the battery and the solar charge controller, measured via the inbuilt sensor.
Additional features:
The user can also adjust backlight settings and text scroll speed. The LCD display also features an On/Off switch for the controller.
Click on the Details and Specifications tab for more information about this product.
Specifications:
Compatible with Victron SmartSolar MPPT solar charge controllers with a plug-in connection area on the face of the controller
(such as models VSSM150-45, VSSM150-60, VSSM150-85 or VSSM150-100)
Fitted with 2 x self adhesive strips on the back (49 x 8 mm) for secure mounting
Dimensions excluding plug (i.e. dimensions when fitted in controller): 97 x 49 x 19 mm
Dimensions including plug: (i.e. standalone dimensions): 97 x 49 x 27 mm
Weight: 64g
This product is covered by a 5 year warranty. For more information please refer to our Terms and Conditions.
Detailed information regarding settings and operation can be found in the user manual for your chosen Victron SmartSolar MPPT solar charge controller.
If you need help with installation or have any technical questions we can provide FREE support - please contact us by email or phone (see Contact Us page for more information).