TELL A FRIEND ABOUT THIS PRODUCT
Testimonials:
Excellent service, fast delivery, great communication. Pleasure to deal with.
Ian (Darwen, Lancashire, UK) - Aug 2012
We are a trusted supplier to thousands of UK clients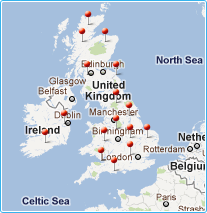 Battery Monitors
Victron 500A 12V/24V/48V Battery Monitor BMV-700
Phone order?
Call our number
0203 150 1111
and quote the product code below
(have your card and delivery details ready)
Working hours Mon-Fri 9am-6pm
Photonic Universe is an official distributor of products from Victron Energy - the globally renowned manufacturer of high quality hybrid power electronics. Victron Energy solar charge controllers have a longstanding reputation for their outstanding reliability, innovative design and superior build quality.
This Victron 500A BMV series battery monitor uses a high-precision battery shunt designed to expertly measure vital charging and performance data for your batteries. Statistics such as battery voltage, charge / discharge current as energy flows in to and out of the battery, Amp Hours consumed, state of charge and time-to-go are displayed on the LCD monitor for convenient viewing. The user also has the option to manually adjust charging settings for enhanced system personalisation.
Battery data
The smart battery shunt measures the vital parameters relating to the battery condition and the energy it receives / provides, and transmits this information to the LCD monitor, where it can be viewed by the user (and where some settings can be amended if necessary). This information includes:
Battery voltage: Displayed to two decimal places.

Battery state of charge: Indicated as a percentage value from 0-100%.

Battery charging / discharging current and power: The current (A) and power (W) flowing out of the battery (load consumption) are displayed as negative values, while the current and power flowing into the battery are displayed as positive values.

Amp hours consumed: For example, if 12A is drawn from a fully charged battery during a period of 3 hours, the monitor will show -36.0Ah consumed by the battery.

Time-to-go: The monitor is able to estimate the approximate length of time that the battery will continue to support the current load, before the battery requires re-charging.
An in-depth data log also records historical data to enable the user to evaluate usage patterns and determine overall battery health. This includes values such as the highest/ lowest recorded voltages, deepest recorded discharge, time since last full discharge, cumulative Amp hours drawn, time since last full charge, total energy charged/discharged and many more.
Customisation
This battery monitor is supplied with a 500A 50mV shunt, although if required, this can be replaced with a different sized shunt. The monitor is compatible with shunts up to 9999A and/or 75mV.
The user can set high/low thresholds for battery voltage or battery state of charge. If either parameter falls outside of this specified range, the battery shunt will transmit a signal to a relay which activates an audible alarm. When the alarm is triggered, the LCD monitor will sound, the backlight will flash and an alarm symbol will appear on the display.
Further customisable features include the option to specify which parameters are displayed on the monitor, the option to 'lock' settings in place, and a fully adjustable backlight on the LCD display.
Advanced communication
By connecting this battery monitor to a Victron VE Direct Bluetooth Dongle, or the VE Direct USB cable (both sold separately), the user can gain access to the VictronConnect App, which unlocks numerous possibilities for advanced programming and remote monitoring of your battery system. Once the monitor is paired with the app, a wide range of additional features are made available, including real-time data transmission, as well as the option to amend battery storage information, program alarms and relays, amend charging parameters, customise the appearance and quantity of data displayed on the monitor and set up or join an existing VE.Smart network.
The VictronConnect app is compatible with most mobile devices and computers, including Android and iOS smartphones, tablets, iPads, MacBooks, Windows PCs/laptops.
Compatibility
This battery monitor is suitable for use with any 12V, 24V or 48V Lead Acid / Gel / AGM / Lithium battery or battery bank. The maximum admissible nominal current through this device using the supplied shunt is 500A.
Additional items
The following items are supplied with this product: a 10m cable to connect the LCD monitor to the battery shunt, a positive supply cable with fuse to connect the battery shunt to the positive battery terminal, a square frame for the LCD monitor and 4 x mounting screws.
Click on the Details and specifications tab for more information about this product.
System Specifications:
Nominal battery voltage: 12V / 24V / 48V
Supply voltage range: 6.5 - 95V
Current draw (backlight off): <4mA
Relay: 60V / 1A
Supply current: 15mA (12V) / 8mA (24V)
Input current range (with supplied shunt): -500A to +500A
Operating temperature range: -20°C to +50°C
Display format:
Current: 0.01A
Voltage: 0.01V
Amp hours: 0.1Ah
State of charge (0-100%): 0.1%
Accuracy (with 500A shunt):
Voltage measurement accuracy: ±0.3%
Current measurement accuracy: ±0.4%
Dimensions:
LCD monitor diameter (front): 63mm
LCD monitor diameter (back): 52mm
LCD monitor depth: 31mm
LCD monitor square frame: 69 x 69mm
LCD monitor weight: 70g
Shunt dimensions: 120 x 25 x 50 mm
Shunt weight: 315g
Standards:
Safety: EN 60335-1
Emission/ Immunity: EN 55014-1 / EN 55014-2
Automotive: ECE R10-4 / EN 50498
Additional items:
Connection cable: 10m length
Positive supply cable: 1m length
4 x mounting screws
This product is covered by a 5 year manufacturer warranty. For more information please refer to our Terms and Conditions.
Click on the Installation tab for further instructions.
This unit comes with a detailed user manual which explains connection and operations. A basic installation guide is also available to download in the 'Documents' tab.
Please note:
The shunt should be connected on the negative battery wire, close to the battery.
The LCD display is designed to be flush-mounted in order to achieve a level surface, and therefore requires a recess to be cut in the mounting surface / wall. A square frame is supplied with the LCD monitor to offer an alternative to the circular design (flush mounting still required).
The following videos provide a brief overview of how to connect the battery monitor and how to optimise the sync parameters:
If you need help with installation or have any technical questions we can provide FREE support - please contact us by email or phone (see our Contact Us page for more information).