TELL A FRIEND ABOUT THIS PRODUCT
Testimonials:
Brilliant thankyou very much! Customer service, second to none!
Chris (Fleckney, Leicestershire, UK) - July 2014
We are a trusted supplier to thousands of UK clients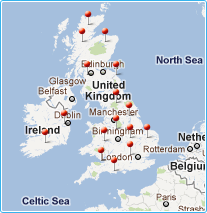 40A controllers
45A 12/24/36/48V solar charge controller / regulator with LCD display and powerful dual USB output (2.4A)
Phone order?
Call our number
0203 150 1111
and quote the product code below
(have your card and delivery details ready)
Working hours Mon-Fri 9am-6pm
This 45A 12V / 24V /36V /48V solar charge controller offers advanced monitoring of the charging process and a wide selection of load programming features, whilst providing full protection for your battery bank. This user-friendly controller also boasts an LCD display and convenient dual USB output for fast charging of USB-compatible devices.
The controller uses PWM (Pulse Width Modulation) technology which has the ability to increase charge acceptance and extend the lifespan of the battery. PWM technology can also recover some lost battery capacity.
Full system protection:
This charge controller features a full range of electronic safety functions including protection against reverse current at night (from the battery back to the solar panel) and automatic cut-off to prevent over-charging, deep discharge, overheating, overload, short circuit and reverse polarity (of the solar panels and batteries).
Advanced programming and monitoring features:
This model features an LCD display with multilevel menu operation and a user-friendly interface with two multifunctional buttons. The screen displays information regarding real time solar panel and battery performance, including: voltage, current, battery state of charge, and battery temperature. An energy statistics counter also displays the accumulated daily and monthly charge values (useful for comparing solar panel performance between different periods).
An optional 12V load (e.g. 12V lighting / fans) may also be connected directly to the solar charge controller, with various settings for night time lighting applications.
In addition, this controller also offers various charging programs for different battery types, which can be easily selected by the user.
Rapid USB charging:
This solar charge controller also offers the rare and highly sought-after feature of a dual USB charging output. These 5V USB ports have a total combined output of 2.4A, offering fast and powerful charging of USB compatible devices such as mobile phones, tablets, mp3 players etc.
Additional features:
In addition to the inbuilt temperature sensor, the controller has a pair of terminals for connecting a remote temperature sensor (sold separately), which can be attached directly to the battery to obtain a more precise temperature measurement and optimise the charging process.
Compatibility:
This controller is suitable for solar panels with a combined power of up to 640W (12V batteries) / 1280W (24V batteries) / 1920W (36V batteries) / 2560W (48V batteries). The wide solar input voltage range of up to 96V ensures that even on-grid solar modules with a voltage higher than 12V / 24V / 36V / 48V can be used (please note that this controller is most efficient when the maximum solar panel voltage is just marginally higher than the battery voltage, e.g. 17V-18V solar panels will be best for charging 12V batteries).
This solar charge controller is designed for use with a sealed (default), gel or flooded battery / battery bank with a voltage of 12V, 24V, 36V or 48V. The controller will automatically determine the appropriate working mode.
Click on the Details and Specifications tab for more information.
Controller specifications:
Fully automated operation and auto 12/24/36/48V selection
Rated charge/discharge current: 45A
Maximum solar panel input power: 640W (12V) / 1280W (24V) / 1920W (36V) / 2560W (48V)
Maximum solar panel input voltage: 96V
Temperature sensor for automatic compensation: -3mV/ºC/2V (25ºC)
Working temperature: -25ºC to +55ºC
Self-consumption: max. ≤9.2mA (12V); ≤11.7mA (24V); ≤14.5mA (36V); ≤17mA (48V)
3 pairs of terminals (solar, battery, optional load)
Terminals for wire up to 16mm2
Multiple mounting holes for ease of installation
Size: 19.4 x 11.8 x 6.4 cm
Weight: 880 g
This product is covered by a 1 year manufacturer warranty. For more information please refer to our Terms and Conditions.
This unit comes with a detailed user manual which explains wiring and operations.
If you need help with installation or have any technical questions we can provide FREE support - please contact us by email or phone (see Contact Us page for more information).