TELL A FRIEND ABOUT THIS PRODUCT
Testimonials:
I have placed two orders with this company and made one emailed enquiry. Both ordered products were dispatched immediately and my query was responded to on the same day it was sent. Well done to all concerned
Michael - Dec 2021
We are a trusted supplier to thousands of UK clients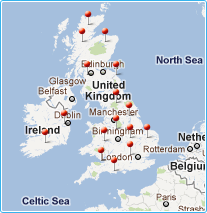 UPS Systems
30kW Zero-Transfer Uninterrupted Power Supply (UPS) System with 48kWh energy storage
Phone order?
Call our number
0203 150 1111
and quote the product code below
(have your card and delivery details ready)
Working hours Mon-Fri 9am-6pm
This Photonic Universe Uninterrupted Power Supply (UPS) system is suitable for both mains-powered and off-grid applications where a stable and reliable source of AC power is required. Suitable for large households, servers, datacentres, telecommunications or other commercial and industrial use.
In a mains-powered setup, the system ensures that the AC appliances are not interrupted even if the mains electricity is unstable, intermittent or the power is suddenly cut off. While the mains power is available, the system links it to the AC output to power connected appliances whilst simultaneously charging the batteries, or keeping them topped up. If the mains power is suddenly cut off, the system instantly transfers the power input to the batteries and starts drawing energy from them so that the load work is not interrupted. When the mains AC input power becomes available again, the system transfers the input to mains AC power.
Zero transfer technology allows for instant switching from mains to battery backup power, without the typical delay of 10-20ms. This UPS is ideal for sensitive electronics where a consistent power supply is required, such as computers, servers, equipment in datacentres and other IT equipment.
For off-grid systems with a generator, this UPS system can allow for continual power even when the generator is turned off. This allows users to achieve significant savings of fuel costs by only running the generator periodically - at the optimal power levels to charge the batteries.
Featuring a dry contact port, the inverters can activate or deactivate relay switches or compatible generators automatically when the battery voltage falls below a user-defined level. For off-grid systems with a generator, this feature is useful as the relay can activate the generator to start charging the batteries when they are low.
This UPS system can be configured in a single-phase or 3-phase AC output, making it suitable for typical household / light industrial single-phase applications, as well as industrial and commercial 3-phase power supply applications.
The system can also be used for portable power applications, i.e. when the batteries are charged in a location with mains electricity, and the system is then transported to a different off-grid location to provide power on demand on a temporary basis.
This system also supports solar power input with no additional charge control equipment required. Users can simply connect a suitable solar array to start charging from solar power to save on electricity bills for mains connected systems, or in order to run a generator less frequently for off-grid systems.
The system can be easily expanded to generate up to 45kW of continuous power, by connecting 9 inverters in parallel (additional parallel kits required, one per inverter). The external battery banks allow for easy expansion or replacement, as well as straight-forward installation in irregular locations.
This package includes 6 x UPS units, 6 x parallel connection kits, 2 x 24kWh 500Ah battery banks , 12m tinned copper battery cables, 6 x thermal over-current circuit breakers and loose ring terminals for crimping.
Please note: the inverters use predictive cooling logic to activate the fans, and are not suitable for installing in locations where silence is required.
Click on the Details and Specifications tab for more information about this kit.
UPS specifications (per unit):
Nominal battery voltage: 48V
Continuous power output: 5000W/5000VA (220-240V AC)
Surge power: 10000VA
Output frequency: 50Hz - 60Hz
Output waveform: Pure sine wave
Maximum solar input power: 4000W
Maximum open circuit solar input voltage: 145V (open circuit)
MPPT operating solar voltage: 60 - 115 V
Maximum solar charging current: 80A
Maximum mains AC charging current: 60A
Maximum combined charging current: 140A
Peak efficiency: 93%
Solar / AC charger max efficiency: 98%
Operating temperature: 0°C to 55°C
Supplied with USB drive, PC connection cable and PC software CD
Size: 52.5 x 30.3 x 14 cm
Weight: 13.5 kg
Battery specifications (entire 48V battery bank):
Nominal voltage: 48V
Nominal capacity: 24kWh
Maximum charging current: 100A
Charging voltage: cycle use 56.4V, standby use 54.8V
Temperature compensation: cycle use -120mV/°C, standby use -72mV/°C
Size: 1290 x 1140 x 670 mm (when positioned in racking)
Weight: 720 kg (including racking)
Please note: due to our warehouse arrangements, the accessories may be shipped from a different warehouse to the hybrid inverters and battery banks, and therefore delivered in a separate package.
The battery banks are covered by a 1 year repair or replacement warranty provided by Photonic Universe. In the unlikely event that a defect is found and confirmed during this period, we guarantee that we will repair or replace defective items (at our discretion). The hybrid inverters are covered by a 1 year manufacturer warranty. For more information please refer to our Terms and Conditions.
For installation advice, please click on the Installation tab.
Please note: this UPS system uses off-grid inverters. Any other AC power sources, including mains, can only be connected to the inverter input AC terminals, and should be fully isolated from the inverter output AC terminals. If the AC output of the inverters come into contact with another source of AC power, the inverters will be damaged.
If you need help with installation or have any technical questions we can provide FREE support - please contact us by email or phone (see Contact Us page for more information).