TELL A FRIEND ABOUT THIS PRODUCT
Testimonials:
Spoke to Ben I have little idea what I am doing but he was brilliant and patient. Reminds me of the old days when companies cared .
Ken G - Dec 2021
We are a trusted supplier to thousands of UK clients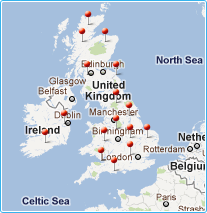 Hybrid off-grid inverters
Wi-Fi Mobile App Monitoring Module for Iconica hybrid inverters (for Android / Apple iOS mobile devices)
Phone order?
Call our number
0203 150 1111
and quote the product code below
(have your card and delivery details ready)
Working hours Mon-Fri 9am-6pm
This intelligent Wi-Fi remote monitoring module uses Wi-Fi connectivity to enable advanced remote monitoring of an Iconica hybrid inverter from an Android or iOS mobile device. With simple set-up and strong magnets to allow the module to be securely attached to the side of the inverter or any other magnetic surface, this wi-fi module is the easiest way to remotely monitor your UPS or solar power system.
The Wi-Fi module collects data from the Iconica inverter and transmits it to the user by connecting to an existing broadband network, where inverter data is transmitted to an online server, enabling the user to view data through the app from any location with an internet connection.
The Watchpower app will show the inverter status, allow settings to be changed, and give notifications in the event of any alarms or warnings from the inverter such as low battery voltage. Download the Watchpower app from the Apple app store or the Watchpower Wi-Fi app from the Google Play store.
Additionally required:
Broadband network
Communications cable (typically included with the inverter)
Android 5.0 or above / Apple iOS 9.0 or above mobile device with Wi-Fi connectivity.
Online data portal:
This Wi-Fi module intelligently communicates with an Iconica inverter to transmit data to the online portal. After registering the wi-fi module to the app and connecting it to an existing broadband network, the app can then access inverter data and settings from anywhere in the world. Options for remote monitoring include:
- Live in-depth data monitoring: View up-to-date system information (refreshed every 5 minutes) including: PV input voltage, battery voltage, charging current, grid voltage, AC output power, output load percentage, total AC output (in VA or as a percentage value), nominal rated input voltage / output voltage and frequency / battery voltage.
- Detailed datalogs: Historical system data and alarm history is recorded and stored indefinitely. It is available to view for any given date range over the inverter's lifespan. The specific time and dates of each recorded value / alarm event are also displayed.
- 3D infographics and diagrams: A system status diagram illustrates all connected system components (solar panel, load, battery. For certain Iconica models, bar charts display total generated power (hourly, daily, monthly or annual data).
Compatibility:
This Wi-Fi remote monitoring module is designed for use with Iconica hybrid inverters only. It is not suitable for use with any other inverter. This module is compatible with most Iconica hybrid inverters with the following exceptions:
ICV-BM3000-24
IC-KMS5000-24
IC-KMS3000-48P
ICGT-IFS5500-48
The wi-fi module cannot be used with the above models of Iconica hybrid inverter.
Click on the Details and Specifications tab for more information.
Specifications:
Compatible with Iconica hybrid inverters, excluding: ICV-BM3000-24, IC-KMS5000-24, IC-KMS3000-48P, ICGT-IFS5500-48
Wi-Fi module dimensions (excluding antenna): 115 x 70 x 26 mm
Antenna length: 80mm
Wi-Fi module weight (including antenna): 110g
This product is covered by a 1 year warranty. For more information please refer to our Terms and Conditions.
This product comes with a detailed user manual which explains installation and operations (see Documents tab).
If you need help with installation or have any technical questions we can provide FREE support - please contact us by email or phone (see Contact Us page for more information).