TELL A FRIEND ABOUT THIS PRODUCT
Testimonials:
fantastic service, highly recommended.
Gareth S - Jan 2021
We are a trusted supplier to thousands of UK clients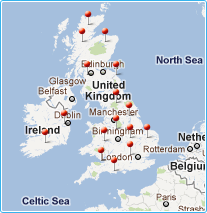 MPPT controllers
Remote IR programmer for LUX series waterproof MPPT solar charge controllers and ARF series lightweight folding solar kits
Phone order?
Call our number
0203 150 1111
and quote the product code below
(have your card and delivery details ready)
Working hours Mon-Fri 9am-6pm
This high quality IR remote programmer allows quick and easy viewing of the running data, for LUX series waterproof MPPT solar controllers and ARF series lightweight folding solar kits, including battery charge estimation, solar voltage, current, total energy generated and more at the push of a button. The programmer can also customise charging, and program load timers and dimmers - all with no wired connection needed.
The large LCD display with backlight and easy-to-use buttons make using this programmer simple and straightforward. The built-in emergency light assists with using the programmer safely at night, and the device will automatically go into sleep mode after a period of inactivity to preserve the battery life.
LUX solar controllers include a 5-stage load timer with dimmer function which can be set up using this remote. The load output of controller can use up to 5 adjustable timeslots triggered after sunset which can each provide between 0-100% of the power for use with dimmable DC appliances, ideal for after-dark lighting systems.
This remote programmer is compatible with the following models of MPPT controllers and folding solar kits:

- LUX1012WP
- LUX1012WP-LI
- LUX1524WP
- LUX1524WP-LI
- ARF-FWP-80M
- ARF-FWP-100M
- ARF-FWP-120M
Click on the Details and Specifications tab for more information about this product.
Specifications:
Batteries: 2x AA (not included)
Self-consumption: 6mA (on), 20mA (transmitting), 6uA (sleep), 15mA (light), 7mA (backlight)
Max range: 8m
Size: 120 x 65 x 20 mm
Weight: 92 g (excluding batteries)
The product is covered by a 1 year manufacturer warranty. For more information please refer to our Terms and Conditions.
The unit comes with a detailed user manual which explains operations.
Please note:
- This unit is only suitable for LUX series waterproof MPPT solar charge controllers.
If you need help with installation or have any technical questions we can provide FREE support - please contact us by email or phone (see Contact Us page for more information).