TELL A FRIEND ABOUT THIS PRODUCT
Testimonials:
It arrived this morning. Talk about fast. Never had a delivery BEFORE the tracking number got to me 
Roger (Bradford on tone, Somerset, UK) - April 2015
We are a trusted supplier to thousands of UK clients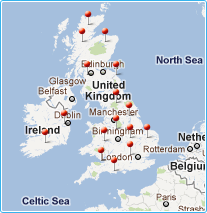 Connectors and plugs
Victron Energy 16A 250VAC Stainless Steel Power Inlet (2p/3w)
Phone order?
Call our number
0203 150 1111
and quote the product code below
(have your card and delivery details ready)
Working hours Mon-Fri 9am-6pm

Photonic Universe is an official distributor of products from Victron Energy - the globally renowned manufacturer of high-quality hybrid power electronics. Victron Energy products have a longstanding reputation for their outstanding reliability, innovative design and superior build quality.

This Victron Energy 16A 250VAC power inlet is a 3-pin socket which allows you to connect your vehicle/boat to an external mains power source (such as an electric hook-up, shore power outlet or a generator). It is positioned on the outside of your vehicle/boat and has a secure cover to protect it from the elements. An additional shore power cable (not included) is required to make a connection.
This power inlet is made of stainless steel and it has a waterproof rating of IP56.
Specifications:
Current rating: 16A
Voltage rating: 250VAC
Standard: IEC 60309, 2p+E
Cover: solid cast 316 stainless steel
Plug body: PA6
Pins: brass, nickel plated
Weight: 0.34kg
Waterproof: IP 56
CE certified: yes

Click on the Documents tab for a detailed technical drawing with the exact dimensions of this product.
This product is covered by a 5 year manufacturer warranty.
Please note that a hole in the body of your vehicle/boat is required in order to install this power inlet.
If you need help with installation or have any technical questions we can provide FREE support - please contact us by email or phone (see Contact Us page for more information).