TELL A FRIEND ABOUT THIS PRODUCT
Testimonials:
Impressive service. Powerful inverter. Nice price. Rapid delivery. Recommended.
Robert (Enfield, Middlesex, UK) - Sept 2017
We are a trusted supplier to thousands of UK clients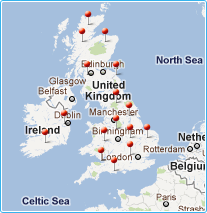 5A-10A controllers
Waterproof 10A 12V/24V solar charge controller / regulator for caravans, motorhomes, campervans, boat, yacht and marine applications
Phone order?
Call our number
0203 150 1111
and quote the product code below
(have your card and delivery details ready)
Working hours Mon-Fri 9am-6pm
This high quality waterproof 10A 12V/24V solar charge controller is designed to protect batteries whilst charging them, having automatic cut off to prevent over-charging and deep discharge. The controller uses PWM (Pulse Width Modulation) technology which increases charge acceptance and prolongs the life of your battery. Often PWM technology can recover some lost battery capacity.
This controller stops reverse current at night (from the battery back to the solar panel) so your battery won't lose any charge. It has many other protection functions such as over charge / discharge, over load, short circuit, overheating etc. Other features of this controller include LED indicators, temperature sensor, battery type selection, dual timer function and several load work modes.
This controller can work with sealed, gel and flooded batteries (simpler controllers can only work with one battery type). In addition, it can accept a wide range of solar input voltage up to 50V, so this controller can work not only with standard off-grid solar modules, but also with on-grid panels which have higher voltage. The controller can handle up to 160W (with 12V batteries) / 320W (with 24V batteries) of solar panels, which makes it a perfect choice for small or medium solar PV systems with a battery and load such as in a camper van or boat.
Controller specifications:
Fully waterproof with IP66 protection from water/moisture
Rated charging and load current 10A
Automated operation and auto 12/24V selection
Solar input voltage up to 50V and power up to 160W (12V batteries) / 320W (24V batteries)
3 pairs of terminals (input, battery, output)
LEDs to indicate charging, battery and load
Temperature sensor for automatic compensation (-30mV/C/12V)
Over load protection (1.25 times of rated current for 60 sec, 1.5 times of rated current for 5 sec)
Short circuit protection (3.5 times of rated current)
Over charge / discharge, overheating and other protection features
Self-consumption: 6mA max
Working temperature: -35C to +55C
Size: 15 x 7 x 3 cm
Weight: 300 g
Mounting holes for ease of installation
The product is covered by 1 year manufacturer warranty. For more information please refer to our Terms and Conditions.
The product comes with an instruction manual which explains connections and operations.
If you need help with installation or have any technical questions we can provide FREE support - please contact us by email or phone (see Contact Us page for more information).
You can download the following documents for this product: