Didn't find products you were looking for?
Tell us about them! We might have these products in stock, but not on the website, or may be we are planning to restock them soon.
Testimonials:
Excellent seller. Incredibly happy. Ridiculously prompt and I was kept informed
Chris (Sandy, Bedfordshire, UK) - Dec 2014
We are a trusted supplier to thousands of UK clients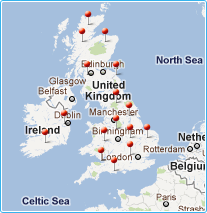 Online shop
150W 12V solar charging kit which includes a 150W textured flexible solar panel with self-adhesive, 20A MPPT solar charge controller with inbuilt LCD display, 5m solar cables with MC4 connectors and a 5m 4.0mm dual core battery cable with fuse holder, 15A fuse and 8mm ring terminals.

1000W 12V pure sine wave inverter with integrated 50A solar controller and 20A mains battery charger - ideal for off-grid applications or remote areas without access to a constant, uninterrupted power supply.

10A mains battery charger for safe unattended charging of one or several 12V batteries from 220-240V AC mains.


60W 12V dual battery solar charging kit which includes a 60W monocrystalline solar panel made of GERMAN solar cells, a 10A dual battery solar charge controller for independent charging of two batteries or battery banks, mounting brackets, a waterproof cable gland and cables with connectors

300W 12V power inverter for converting 12V DC battery power into 230V AC mains power - ideal for off-grid locations and areas without access to mains electricity.

Premium quality waterproof 150W (75W + 75W) 12V folding solar charging kit with a stand, a solar controller, 5m of cable, crocodile clips and a storage bag

40W 12V monocrystalline solar panel made of high efficiency GERMAN solar cells with 5m of special solar cable and MC4 connectors

100Ah 12V deep cycle AGM battery for various applications

Includes an aluminium reinforced 50W narrow semi-flexible solar panel with a strong ETFE coating and German solar cells, a 10A solar charge controller with LCD display, a pair of 5m 4mm solar extension cables with MC4 connectors and 5m of 4mm dual core battery cable

Strong 120W semi-flexible monocrystalline solar panel, reinforced with anodised aluminium and a highly durable ETFE coating. With high quality German solar cells.