Didn't find products you were looking for?
Tell us about them! We might have these products in stock, but not on the website, or may be we are planning to restock them soon.
Testimonials:
Second solar panel from Photonic. Always a good quality product. AA+++
Douglas (Cambridge, UK) - Oct 2017
We are a trusted supplier to thousands of UK clients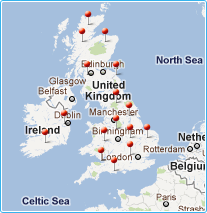 News
02.03.2016, 17:29
We are now an official distributor of Morningstar solar charge controllers
Photonic Universe has recently been accredited as an official distributor of Morningstar solar charge controllers in the UK and globally.

We are proud to offer solar charge controllers from this world-leading supplier. Innovative design from years of dedicated research and superior build quality enable these top-of-the-range solar charge controllers to extend battery capacity and life, maximise energy production, and consistently achieve high performance standards.
Reliable design of Morningstar solar charge controllers and a 5 year manufacturer warranty are the other important benefits which will be welcomed by our customers.
For the full list of Morningstar controllers we stock please go to our catalogue category Solar Charge Controllers -> Morningstar (the list is currently being updated with new products).