Didn't find products you were looking for?
Tell us about them! We might have these products in stock, but not on the website, or may be we are planning to restock them soon.
Testimonials:
Excellent service, fast delivery, great communication. Pleasure to deal with.
Ian (Darwen, Lancashire, UK) - Aug 2012
We are a trusted supplier to thousands of UK clients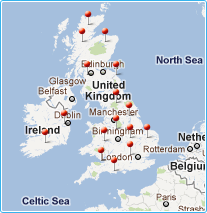 News
20.12.2016, 16:18
Our premium range of dual battery MPPT solar charge controllers has now launched
Introducing our brand-new range of exceptionally rare dual battery MPPT solar charge controllers. The perfect solution for charging and protecting systems with two batteries or battery banks (e.g. a starter and leisure battery) and maintaining optimal system efficiency of >95%
Our premium range of Votronic solar charge controllers , combines state of the art MPPT technology with dual battery capability to create a previously unprecedented type of solar charge controller.
This premium range features controllers for 165W , 250W ,350W and 430W of solar input - perfect for 12V dual battery systems of all sizes.
These solar regulators feature a comprehensive range of protection functions for your batteries to prevent reverse current at night (from the battery back to the solar panel), over-charging, short circuit and battery reverse polarity protection.
Unlike less advanced solar charge controllers, the entire range is 100% compatible with a vast range of battery types, including Gel, AGM, Lead-Acid Flooded and Lithium batteries; with several different charging options available for each type.
For even greater control of your solar system, check out the remote LCD meter for these controllers which displays vital charging parameters in a sleek, compact display unit. Perfect for quick and easy monitoring of system performance.
These Votronic controllers are designed, engineered and manufactured in Germany to the highest European standards – so you can be assured of exceptional quality.