Didn't find products you were looking for?
Tell us about them! We might have these products in stock, but not on the website, or may be we are planning to restock them soon.
Testimonials:
100W back-contact panel getting good open voltage even in cloudy conditions !
Brian (Crawley, West Sussex, UK) - May 2017
We are a trusted supplier to thousands of UK clients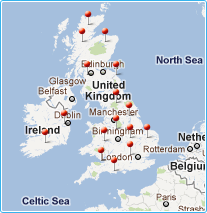 News
14.10.2021, 10:58
New 8kW Hybrid Inverter added to our catalogue.
We are proud to announce we have added an exciting new product to our range, the Iconica MAX 8000W 48V hybrid pure sine wave inverter. This inverter boasts a range of unique features and will be a great solution for customers looking at putting together larger scale off-grid systems, as well as for customers looking to reduce their mains electricity usage and save on electricity bills. It could also create the perfect back-up system in locations suffering from frequent power cuts.
Please find a brief overview of some of the main features below.
8kW Pure sine wave inverter with a 16kW peak. This is the largest inverter we currently have in our product range.
8kW Total solar Input with two inbuilt solar charge controllers allowing you to connect two independent solar arrays to the inverter. This is great if the panels are on two sides of a roof, facing different directions or any other scenarios where you would need two separate solar charge controllers.
120A Smart battery charger - Designed to enable safe, efficient, and fast (up to 120A) unattended charging of a battery from a mains power source or generator.
This inverter features the rare and unique ability to power AC appliances without connection to a battery - directly from solar power.
System expansion potential. This inverter can be connected in parallel with additional identical units. Offering large system expansion potential.
You can view the product in much more detail here.
If you have any questions, require further information or if you want to discuss the item in more detail you can speak to one of our experienced product advisors by using our contact details found here.