TELL A FRIEND ABOUT THIS PRODUCT
Testimonials:
This arrived so fast, it must have been beamed over! 5*++++
Peter (Shoreham-by-Sea, West Sussex, UK) - June 2012
We are a trusted supplier to thousands of UK clients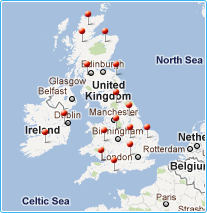 Large dual battery kits 80W-120W
80W 12V dual battery solar charging kit with 10A controller, mounting brackets and cables - made of German BOSCH solar cells
Phone order?
Call our FREE phone
0800 755 5050
and quote the product code below
(have your card and delivery details ready)
Working hours Mon-Fri 9am-6pm
This is a complete 80W dual battery solar charging kit which includes:
High efficiency 80W monocrystalline solar panel with 5m of special solar cable and waterproof connectors
10A 12V dual battery solar charge controller for independent charging of 2 batteries or battery banks (can work with a single battery too)
Set of 4 corner plastic brackets for bonding to the roof
Waterproof double entry cable gland
5m of double core battery cable
Pair of waterproof MC4 connectors for easy connectivity
User manual with detailed installation instructions
At Photonic Universe we always make sure the quality of our products is high. That's why we selected BOSCH as a supplier of solar cells for the solar panel included in this charging kit. BOSCH solar cells have excellent performance characteristics even in low light conditions (good output even without direct sunlight!) and higher efficiency and reliability compared to many other solar cells. Solar cells have distinctive "H" marks; German quality of solar cells is confirmed by the official certificate. Read more about the record breaking efficiency of BOSCH solar cells by clicking here to see solar cell specifications.
The high efficiency waterproof 80W 12V monocrystalline solar panel included in this kit is perfect for permanent outdoor use to provide free electricity for charging 12V batteries to power various applications such as in a motorhome, campervan, boat, or any off-grid power and lighting systems. The panel is fitted with 2x5m of single core cable specially designed for solar panels to carry high currents with negligible power loss and waterproof MC4 connectors for easy connectivity. The kit also includes a pair of additional MC4 connectors for convenience of connecting and disconnecting the solar panel from your system.
The long-lasting, high-efficiency monocrystalline BOSCH solar cells and the tough, sealed, aluminium frame will give you years and years of consistent, free power. Waterproof design ensures the panel can be used in all weather conditions.
The kit includes a 10A 12V/24V dual battery solar charge controller designed to charge and protect 2 batteries simultaneously, having automatic cut off to prevent over-charging. The controller uses PWM (Pulse Width Modulation) technology which increases charge acceptance and prolongs the life of your batteries. PWM technology can also recover some lost battery capacity
This is a perfect solar controller for a caravan / camper van / boat or another system with 2 batteries (e.g. engine and leisure battery) or battery banks. You can set the initial charging priority e.g. 80% power to go to the engine battery and 20% to leisure battery. When one of the batteries is fully charged the controller will automatically divert all power to the other battery.
Can the unit work with only 1 battery? Yes, absolutely! The controller will determine automatically if there's only 1 battery connected and will pass 100% of power to this battery. You can add a second battery later.
This controller is perfect for the 80W solar panel included with the kit. In fact, it can work with solar panels up to 160W, so you will have some reserve capacity and will be able to add one more 80W solar panel later to your system without the need to change the controller. The unit has many protection functions, such as stopping reverse current at night (from the battery back to the solar panel), over charge protection, short circuit, reverse polarity protection etc. Other features include various LED indicators, battery type selection (sealed, gel, flooded) and RJ-45 socket for a remote LCD meter (can be purchased separately). A built-in temperature sensor allows charging adjustment depending on ambient temperature.
This kit includes a set of 4 plastic corner mounting brackets for fixing solar panel to the roof. The brackets can be bonded to the roof using an appropriate sealant / adhesive (not included).
A waterproof double cable entry gland included with the kit is perfect for getting cables from outside to inside and keeping the place fully waterproof.
The kit also includes 5m double core battery cable. The full length of cable can be used for 1 battery, or it can also be cut into 2 pieces (e.g. into 2m and 3m) for use in dual battery systems.
Solar panel specifications:
Peak power: 80W
Maximum power voltage: 17.5V
Maximum power current: 4.44A
Open circuit voltage: 21.6V
Short circuit current: 4.8A
Power allowance range: +/- 3%
Dimensions: 67 x 87 x 3 cm
Weight: 7.9 kg
4 mounting holes for ease of installation
2x5m of high quality single core solar cable 2.5mm cross section with MC4 connectors
Charge controller characteristics:
Fully automated operation and auto 12/24V selection
3 pairs of terminals (input, battery 1, battery 2)
LEDs to indicate state of charge
Temperature sensor for temperature compensation of charging (-30mV/C/12V)
Additional connection point for a remote temperature sensor (not included)
RJ-45 connection point for a remote meter (not included)
Various protection features (over charge, short circuit, reverse polarity etc)
Self-consumption: 4mA at night, 10mA when charging
Working temperature: -35C to +55C
Terminals for wire up to 4.0mm2
Size: 15.5 x 7.6 x 4.0 cm
Weight: 185 g
Multiple mounting holes for ease of installation
The product is covered by 1 year warranty (including the solar charge controller, and workmanship warranty on the solar panel). For more information please refer to our Terms and Conditions.
In addition, solar cells are guaranteed to produce at least 90% of nominal power in 10 years after purchase and at least 80% of nominal power in 25 years after purchase. This warranty is provided by the manufacturer of solar cells.
It's very easy to wire this kit up: just connect the first battery to Battery 1 terminals of the solar charge controller (battery "+" to "+" Battery 1 terminal of the solar controller, battery "-" to "-" Battery 1 terminal of the solar controller), then connect the second battery to Battery 2 terminals of the solar controller (skip this step if you only have one battery), and finally connect solar panel to the solar terminals of the controller (solar panel "+" to "+" solar terminal, solar panel "-" to "-" solar terminal) - and the kit is ready and will start charging immediately! Disconnection should follow the reverse order.
Connection diagram for this solar kit is provided below: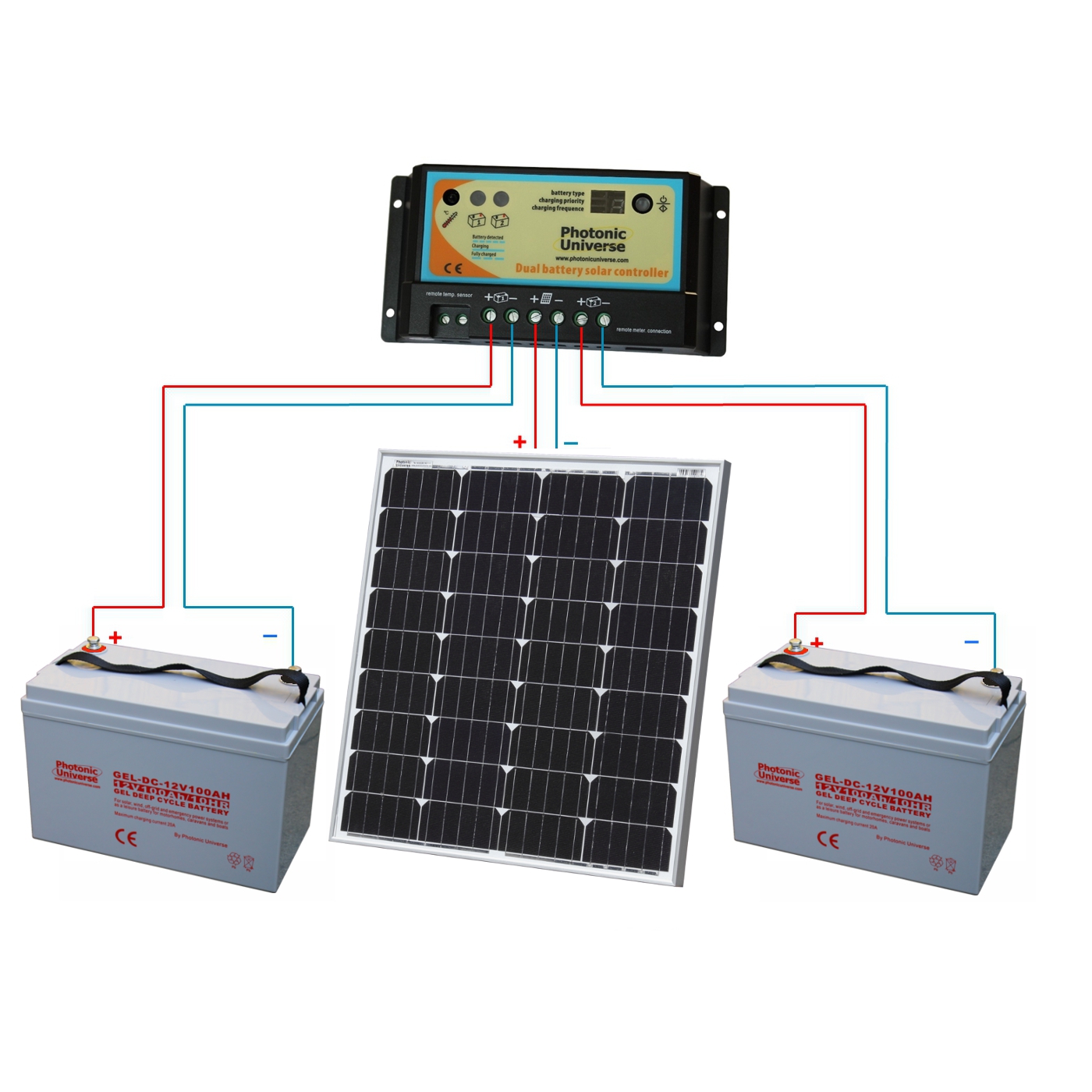 Additional information can be found in the detailed installation manual which comes the kit.
If you need help with installation or have any technical questions we can provide FREE support - please contact us by email or phone (see Contact Us page for more information).