TELL A FRIEND ABOUT THIS PRODUCT
Testimonials:
Spoke to Ben I have little idea what I am doing but he was brilliant and patient. Reminds me of the old days when companies cared .
Ken G - Dec 2021
We are a trusted supplier to thousands of UK clients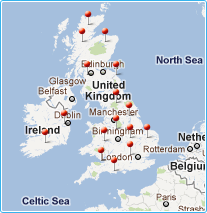 Dual battery controllers
Remote meter / display for 10A and 20A dual battery solar charge controllers
Phone order?
Call our number
0203 150 1111
and quote the product code below
(have your card and delivery details ready)
Working hours Mon-Fri 9am-6pm
This high quality, dual battery remote display / meter is suitable for the Photonic Universe 10A dual battery solar charge controller or 20A dual battery solar charge controller for 12/24V solar systems with two batteries. The unit is ideal for remote system monitoring as it allows full control over the charging process.
This remote meter displays the following charging parameters:
Battery voltage
Solar panel voltage
Solar panel current (including maximum recorded current)
Battery state of charge
Accumulated battery capacity
Minimum and maximum voltages for each battery
Split of charge ratio for each battery
Charging frequency (frequency of charging pulses)
The unit can also display:
Temperature (either measured by the inbuilt temperature sensor on the solar charge controller, or by an optional external temperature sensor )
Time
If you already have one of our dual battery solar controllers, this remote meter can easily be added at any time to your system - simply connect the cable supplied with the meter to the RJ45 socket of the controller.
Charging parameters can either be displayed on an automatic 3 second rotation, or the unit can be programmed to display only the chosen set of data.
The four buttons on the front panel allow for easy transition between data sets.
Click on the Details and Specifcations tab for more information
Specifications:
Rated voltage: 12V
Self-consumption: 17-23mA
Operating temperature: -40C to +60C
LCD operating temperature: -10C to +40C
Humidity: 0-100%
Communication cable: RJ45 (8pin) 10 meters included
Wall mounting board with mounting holes included
Size: 11 x 11 x 4 cm
Weight: 150 g (without cable)
This unit comes with a detailed user manual which explains installation and operations (see Documents tab).