TELL A FRIEND ABOUT THIS PRODUCT
Testimonials:
As described . Excellent . Quick delivery. A delight. Thanks!
Mark (Melton Mowbray, Leics, UK) - Nov 2014
We are a trusted supplier to thousands of UK clients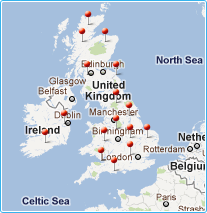 Dual battery controllers
20A dual battery solar charge controller / regulator for 12V / 24V batteries
Phone order?
Call our number
0203 150 1111
and quote the product code below
(have your card and delivery details ready)
Working hours Mon-Fri 9am-6pm
This high quality 20A 12V/24V dual battery solar charge controller is designed to charge and protect two batteries simultaneously, with automatic cut off to prevent over-charging. The controller uses PWM (Pulse Width Modulation) technology which increases charge acceptance and prolongs the life of your batteries. PWM technology can also recover some lost battery capacity.
This is a perfect solar controller for a caravan / camper van / boat or another system with two batteries (e.g. engine and leisure battery) or two battery banks. You can set initial charging priority e.g. 80% engine battery and 20% leisure battery. When one of the batteries is fully charged the controller will automatically divert all current to the other battery.
This controller can work with solar panels up to 320W (12V battery system) / 640W (24V battery system).
Can the unit work with only one battery? Yes, absolutely! The controller will determine automatically if there's only one battery connected and will pass 100% of charging current to this battery. You can add a second battery later.
The unit has many protection functions, such as stopping reverse current at night (from the battery back to the solar panel), over charge, short circuit, reverse polarity etc. Other features include various LED indicators, battery type selection (sealed, gel, flooded) and an RJ-45 socket for an optional remote LCD meter with 10m cable.
A built-in temperature sensor allows the controller to optimise the charging process depending on the ambient temperature. If you are planning to position the controller far away from the battery, or if the battery and the controller are exposed to different ambient temperatures, an external remote temperature sensor with 3m cable is recommended for this dual battery solar charge controller. To enable connection to the screw terminals of the controller, the green connector block on the end of the remote temperature sensor cable should be unscrewed.
Click on the Details and Specifications tab for more information.
Controller specifications:
Rated charging current 20A
Fully automated operation and auto 12/24V selection
3 pairs of terminals (input, battery 1, battery 2)
LEDs to indicate state of charge
Temperature sensor for temperature compensation of charging (-30mV/C/12V)
RJ-45 connection point for a remote meter (not included)
Various protection features (over charge, short circuit, reverse polarity etc)
Self-consumption: 4mA at night, 10mA when charging
Working temperature: -35C to +55C
Terminals for wire up to 4.0mm2
Size: 15.5 x 7.6 x 4.0 cm
Weight: 230 g
Multiple mounting holes for ease of installation
This product is covered by a 1 year warranty. For more information please refer to our Terms and Conditions.
This product comes with an detailed instruction manual which explains connections and operations (see Documents tab).
If you need help with installation or have any technical questions we can provide FREE support - please contact us by email or phone (see Contact Us page for more information).