TELL A FRIEND ABOUT THIS PRODUCT
Testimonials:
Excellent service, fast delivery, great communication. Pleasure to deal with.
Ian (Darwen, Lancashire, UK) - Aug 2012
We are a trusted supplier to thousands of UK clients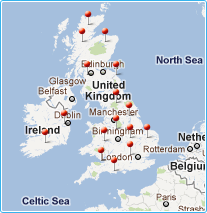 Large solar panels 80W-160W
160W monocrystalline solar panel with 5m cable
Phone order?
Call our number
0203 150 1111
and quote the product code below
(have your card and delivery details ready)
Working hours Mon-Fri 9am-6pm
This waterproof, affordable, high efficiency Photonic Universe 160W monocrystalline solar panel is perfect for permanent outdoor use to provide free electricity to charge a 12V battery to power hundreds of devices and electrical appliances.
The long-lasting monocrystalline solar cells and the tough, sealed, aluminium frame will provide years and years of consistent, free power. The waterproof design ensures that the panel can be used in all weather conditions.
The panel comes with 5m of special solar cable which can operate at high roof temperatures, with minimum power losses. A pair of male / female MC4 connectors are crimped on the end of the cable for easy connection to other solar panels, extension leads or your existing system (MC4 connectors can also be cut off when wiring to screw terminals of a solar charge controller).
Each individual solar panel is thoroughly tested to the highest quality standards, and labelled with a unique serial number for further quality control and increased warranty protection.
Several of these panels may be connected in parallel or series to generate extra power for your needs.
If you are planning to use this solar panel to charge a 12V battery or battery bank: please note this panel requires a solar charge controller / regulator to charge a 12V battery. To view the full range of solar charge controllers we offer, please visit the Solar Charge Controllers category of our online shop.
Click on the Details and Specifications tab for more information.
Solar panel specifications:
Peak power: 160W
Maximum power voltage: 18.8V
Maximum power current: 8.48A
Open circuit voltage: 22.9V
Short circuit current: 9.02A
Power allowance range: 0~+3%
Dimensions: 1480 x 670 x 35 mm
Weight: 12 kg
4 mounting holes
5m of special cable with MC4 connectors attached
This product is covered by a 1 year workmanship warranty provided by Photonic Universe. We will repair or replace defective items at our discretion. For more information please refer to our Terms and Conditions.
In addition, solar cells are guaranteed to produce at least 90% of nominal power in 10 years after purchase and at least 80% of nominal power in 25 years after purchase. This warranty is provided by the manufacturer of solar cells.
This solar panel is not supplied with an installation manual as it needs to be connected to further devices such as a solar charge controller or inverter which are supplied with a manual.
If you are planning to use this panel to charge a 12V battery, we recommend purchasing one of our solar charge controllers. All of our solar charge controllers include an instruction manual with detailed installation instructions and wiring diagrams.
If you need help with installation or have any technical questions we can provide FREE support - please contact us by email or phone (see Contact Us page for more information).