TELL A FRIEND ABOUT THIS PRODUCT
Testimonials:
For the first time since we have owned the boat (28 years), we have more power than we need. Fantastic, and thanks again.
John (Weybridge, Surrey, UK) - May 2015
We are a trusted supplier to thousands of UK clients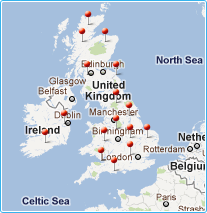 Extra large folding kits 120W-150W
120W 12V folding solar charging kit for camper, caravan, boat or any other 12V system - German solar cells
Phone order?
Call our number
0203 150 1111
and quote the product code below
(have your card and delivery details ready)
Working hours Mon-Fri 9am-6pm
This complete 120W 12V folding solar charging kit includes:
High efficiency 60W + 60W folding monocrystalline solar panels
Advanced fully automated 10A solar charge controller with enhanced protection functions
Adjustable aluminium stand, handle and latches
5m cable with a battery plug and a fuse
Battery crocodile clips for ease of connection
Storage / protective case
Installation manual
This solar kit has several important features which make it a truly unique, premium quality product:
It is completely waterproof, including the solar charge controller fitted on the back (genuine IP66-waterproof solar controller), which means it is suitable for all weather conditions
The high efficiency 60W + 60W folding monocrystalline solar panels are made of high quality German solar cells
The protective bag is not just a dust cover - it is a sturdy protective case made with a layer of foam which prevents accidental damage to the frame and glass
The advanced, fully automated 10A solar charge controller provides complete overcharge protection and supports several battery types with different charging parameters for maximum efficiency (sealed, gel, flooded batteries)
At Photonic Universe we always ensure that our products are of the highest quality. This is why we have selected one of the leading German solar manufacturers, SolarWorld, as a supplier of solar cells for this product. SolarWorld is an established German solar manufacturer focussed on quality and innovation, whose products are a very popular choice for residential and commercial rooftop solar systems in the UK and Europe. The SolarWorld solar cells used in our solar panels have excellent performance in low light conditions (particularly when compared to unbranded solar cells of unknown origin) and they produce a good amount of power even in daylight when direct sunlight is not available. Please note that SolarWorld manufactures and supplies only the solar cells for our solar panels - i.e. SolarWorld produce the key component of our solar panels which generates electricity. SolarWorld is not a manufacturer of the whole solar panel.
This high quality, waterproof 120W folding solar kit is designed to provide free power for charging 12V batteries, for example in vehicles and boats (motorhome, caravan, camper, narrow boat, yacht etc) or any other systems with a 12V battery or battery bank. It comes with everything required for battery charging: an advanced 10A 12V solar charge controller, and 5m cable with a battery plug, fuse and crocodile clips. You can start using the kit immediately - simply connect it to your battery and find a well-lit area for the folding solar panels.
The kit comes with a stand which is very easy to set up and adjust. A handle and latches ensure ease of storage and portability. The storage case included with the kit is made with a layer of foam, which will completely protect the glass and the frame and prevent any accidental damages. In addition, the corners of solar panels are protected by plastic which reduces the risk of damage and adds to the aesthetically pleasing design.
The 10A waterproof solar charge controller included with the kit will protect your battery from over-charging (it controls the state of charge of your battery every second). The controller has many other protection functions, such as stopping reverse current at night (from the battery back to the solar panel), incorrect polarity and short circuit protection. Controller uses PWM (Pulse Width Modulation) technology which increases charge acceptance and prolongs the life of your battery. PWM technology can also recover some lost battery capacity.
In addition, the solar charge controller has a very high degree of water protection - IP66 (which means it's completely sealed), so it is absolutely safe to use this solar kit in all weather conditions.
The kit is suitable for sealed, gel and flooded 12V batteries: the solar charge controller allows battery type selection for maximum efficiency of charging.
Click on the Details and Specifications tab for more information about this product.
Solar panel specifications:
Peak power: 120W
Maximum power voltage: 17.5V
Maximum power current: 6.86A ( 2x 3.43A)
Open circuit voltage: 21.6V
Short circuit current: 7.4A (2 x 3.7A)
Power allowance: +/- 3%
Dimensions: 51 x 77 x 7 cm (folded)
Weight: 12.8kg
This product is covered by a 1 year warranty (workmanship warranty on the solar panel is provided by Photonic Universe, solar charge controller warranty is provided by the solar controller manufacturer) For more information please refer to our Terms and Conditions.
In addition, solar cells are guaranteed to produce at least 90% of nominal power in 10 years after purchase and at least 80% of nominal power in 25 years after purchase. This warranty is provided by the manufacturer of solar cells.
This product comes with an instruction manual which explains connections and operations. Advanced users will also benefit from a separate detailed manual for the solar controller (see the Documents tab).
If you need help with installation or have any technical questions we can provide FREE support - please contact us by email or phone (see Contact Us page for more information).