TELL A FRIEND ABOUT THIS PRODUCT
Testimonials:
Great service, excellent support and information.
Richard A - Feb 2020
We are a trusted supplier to thousands of UK clients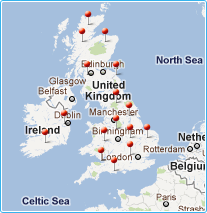 MPPT controllers
20A 12V/24V MPPT solar charge controller with LCD display for vehicles, boats, lighting and off-grid solar systems
Phone order?
Call our number
0203 150 1111
and quote the product code below
(have your card and delivery details ready)
Working hours Mon-Fri 9am-6pm
This advanced 20A 12V/24V MPPT solar charge controller with LCD display has been designed and manufactured in Italy in accordance with the highest European quality standards. This product features an extensive range of safety functions as well as programmable settings for the battery and an optional 12V load.
This solar charge controller uses the most advanced Maximum Power Point Tracking (MPPT) technology to ensure that the solar array always operates at peak power. MPPT technology constantly searches for the maximum power point of the solar panels to maximise their energy output in all weather conditions and temperatures. This technology boosts solar module current and produces a higher energy yield compared to standard PWM solar controllers.
Key features:
Full safety protection: The unit features a full range of electronic safety functions including protection against over-charging, deep discharge, overload, reverse current at night, solar panel over voltage, short circuit and reverse polarity protection (of the solar panel and battery).
Wide solar input range: The controller is suitable for solar panels with an open circuit voltage of up to 100V and with maximum power up to 310W (when charging a 12V battery or battery bank) / up to 620W (when charging a 24V battery or battery bank).
Advanced battery compatibility: Suitable for use with a wide range of battery types, including: sealed, gel, flooded and lithium batteries. Advanced configuration of battery charging voltages is also possible.
Terminals for a programmable load: Optional 12V appliances may be connected directly to the load terminals of the solar charge controller. The controller features a wide choice of 18 different load management programs. For example, the load can be programmed to operate only during the daytime / nighttime, thanks to the intelligent day/night sensor. Alternatively, more specific timers can be set to switch the load on for a certain number of hours.
Backlit LCD screen: Displays vital system information including: power, voltage and current (for the solar panel and battery), a resettable energy counter (for the solar panel and load), battery temperature, load parameters, low battery indication, etc.
Battery temperature sensor: Monitors and protects the battery from overheating. Temperature values are shown on the LCD display.
Click on the Details and specifications tab for more information about this product.
Controller specifications:
Advanced MPPT technology to maximise system efficiency
Fully automated 12V/24V operation
3 pairs of terminals (input, battery, load) for wires up to 10mm2
Maximum solar input: 310W (12V battery) / 620W (24V battery) up to 100V
Battery temperature sensor with automatic compensation (-24mV/C)
Comprehensive electronic protection features
Self-consumption: 12.7mA
Working temperature: -10C to +50C
Unit Dimensions: 154 x 130 x 53 mm (including mounting edges)
Mounting area dimensions: 134 x 122 mm
Weight: 515g
Mounting holes for ease of installation
This product is covered by a 5 year manufacturer warranty. For more information please refer to our Terms and Conditions.
The unit comes with a detailed user manual which explains wiring and operations (see Documents tab).
The following documents are available to download: