Didn't find products you were looking for?
Tell us about them! We might have these products in stock, but not on the website, or may be we are planning to restock them soon.
Testimonials:
40W solar panel suitcase worked better than expected - completely charged our leisure battery in a few hours on a very overcast day.
Addie (Walton, Norfolk, UK) - Aug 2013
We are a trusted supplier to thousands of UK clients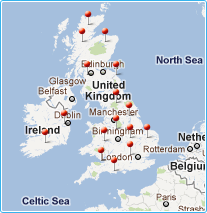 Complete Off-Grid Systems
Includes 12 x 300W solar panels, a 5000W 48V hybrid inverter with integrated 80A 500V MPPT solar charge controller and 60A mains battery charger, a 24kWh battery bank and connection cables

Includes 8 x 300W solar panels, a 5000W 48V hybrid inverter with integrated 80A 500V MPPT solar charge controller and 60A mains battery charger, a 24kWh battery bank and connection cables

Includes 8 x 300W solar panels, a 3000W 24V hybrid inverter with integrated 80A MPPT solar charge controller and 60A mains battery charger, a 12kWh battery bank and connection cables

Includes 4 x 360W solar panels, a 3000W 24V hybrid inverter with integrated 60A MPPT solar charge controller and 60A mains battery charger, a 7.2kWh battery bank and connection cables

Includes 4 x 360W monocrystalline solar panels, a 3000W 24V hybrid inverter with integrated 60A MPPT solar charge controller and 60A mains battery charger, 6 x 100Ah AGM batteries and connection cables

Includes 2 x 410W Sharp monocrystalline solar panels, a 3000W 24V hybrid inverter with integrated 40A MPPT solar charge controller and 25A mains battery charger, 2 x 100Ah AGM batteries and connection cables

Includes 2 x 410W Sharp solar panels, a 3000W 24V hybrid inverter with integrated 40A MPPT solar charge controller and 25A mains battery charger, 4 x 100Ah AGM batteries and connection cables

Includes 2 x 300W German solar panels, a 2000W 24V hybrid inverter with integrated 40A MPPT solar charge controller and 25A mains battery charger, 2 x 100Ah AGM batteries and connection cables

Includes a 250W solar panel with monocrystalline solar cells, a 1000W 12V hybrid inverter with integrated 50A solar charge controller and 20A mains battery charger, 2 x 100Ah AGM batteries and connection cables