Didn't find products you were looking for?
Tell us about them! We might have these products in stock, but not on the website, or may be we are planning to restock them soon.
Testimonials:
For 12V this is the most powerful flexible solar panel on the UK market. Happy!
Stephen (West cross, Swansea, UK) May 2017
We are a trusted supplier to thousands of UK clients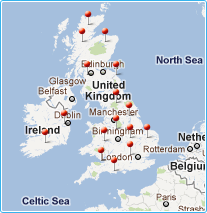 Controller accessories
Creates a Wi-Fi network (50m radius) for your mobile phone to connect to the free Solar Station mobile app, in order to monitor and program your solar system.

Remote temperature sensor with 3m cable and connector suitable for all TR/PTR/VS/PU/DB series solar charge controllers offered by Photonic Universe

Control box for parallel connection of up to 6 PTR****AN / TR****AN MPPT solar charge controllers to the same battery bank. Synchronises charging programs for maximum efficiency and allows monitoring and control of complex solar power systems from a single access point.