Didn't find products you were looking for?
Tell us about them! We might have these products in stock, but not on the website, or may be we are planning to restock them soon.
Testimonials:
Really fantastic communication and service would highly recommend
Ben G-W - Jul 2021
We are a trusted supplier to thousands of UK clients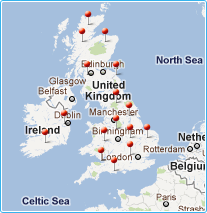 Discounted Items
High efficiency 20A MPPT solar charge controller / regulator with built in LCD display for solar panels up to 260W (12V battery system) / 520W (24V battery system) up to 100V. Supports Lithium battery charging.

360W monocrystalline solar panel with 1m of special solar cable and MC4 compatible connectors. Suitable for grid-tie, hybrid and off-grid applicatons (e.g. for charging batteries in mobile or stationary installations)

2000W 24V power inverter for converting 24V DC battery power into 230V AC mains power- ideal for off-grid locations and areas without access to mains electricity.